MOR Blood Orange Body Butter 50g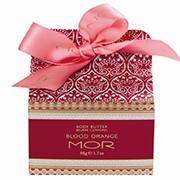 The perfect moisturiser from MOR Cosmetics, paraben free and not tested on animals. Moisturiser containing shea butter, avocado and vitamins, created by Australian cosmetics brand MOR. Luxurious body butter with a light texture, suitable for all skin types as a moisturiser.
The light texture is perfect for all skin types that desire a soft yet rich moisturiser, infused with a delicious blood orange scent. Delicious aromas that will intoxicate her with their exquisite perfume and highly moisturising ingredients. Have you ever wished of finding the perfect gift your lady? If so, the perfect gift you are looking for is just few clicks away, thanks to the most trusted hamper provider online, The Hamper Emporium. Where else can you find a single product that offers a lot of benefits such as the MOR Blood Orange Body Butter, which is present in most gift hampers of The Hamper Emporium. In fact, there are few top gift hampers online which presents you with the Blood Orange Body Butter of the MOR.
What are the Top Gift Hampers of The Hamper Emporium Offering MOR Blood Orange Body Butter?
There are few words that can describe the body butter product of MOR; luxurious, premium, lavish and first class. These are some of the words that most satisfied clients associate the MOR Blood Orange Body Butter. The Hamper Emporium offers this product in most of its gift hampers and its top three gift hampers are A Little Luxury, Pure Indulgence Hamper, and the
Pretty in Pink Pamper Hamper
. All these gift hampers are priced accordingly, giving people with tight budget to avail of this product along with other yummy delights. Free delivery within Australia is also offered once you purchased these hampers for your special lady. So why check on other gift hampers, when The Hamper Emporium offers you gift hampers filled with impressive products from treats, to champagnes and wines and other giftable products.
What Benefits Can Your Precious Lady Get From MOR Body Butter in Blood Orange Scent?
In terms of benefits, the body butter of MOR offers a lot that a lady like your special someone will find hard to resist. This product is a perfect hand care, which can be used daily without feeling sticky or greasy. She can simply soak her hands to improve the dry skin in it and moisturise it effectively. It can also soften skin with dry patches. Even flaky elbows have no escape! One can also make use of this as foot care ingredient, cuticle softener and can even act as make up remover. Let your precious lady enjoy this product, grab gift hampers which offers the MOR Body Butter in Blood Orange Scent now. In addition, this body butter can effectively moisturise your lady's face and neck, it can be used as lip balm and massage ingredient too.
Can You Substitute Body Butter With Lotion?
If you want something special for your lady, substituting body butter with lotion is a big no. Although both products offer the same purpose, to moisturise and hydrate the skin, most lotions are filled with 70% water. On the other hand, body butter contains ample amount of moisturiser that can last longer. This is why gift hampers online are filled with body butter products rather than lotions.
Therefore, checking for top gift hampers online is a must if you want only the best out there. Aside from the body butter of MOR in Blood Orange scent, you also get to enjoy delectable products that your lady will surely love to munch! Go on, indulge her desires and give her everything she wants by grabbing reliable gift hampers from The Hamper Emporium. The perfect moisturiser from MOR Cosmetics, paraben free and not tested on animals.