MOR Christmas Cracker with Blood Orange Handcream 50ml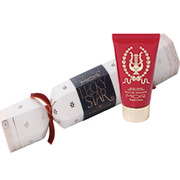 Christmas cracker from MOR cosmetics containing a moisturising handcream, providing you with superior moisture every time. Moisturising handcream from MOR Cosmetics, beautifully packaged as a Christmas cracker, making it the perfect Christmas gift. Luxurious handcream from MOR Cosmetics made with natural ingredients to provide the smoothest skin.
Delivering a rich hydrating formula your hands will be left feeling deliciously silky, smooth & moisturised.
The Perfect Christmas Present? Our MOR Christmas Cracker with Blood Orange Hand Cream!
Want to gift an original and luxurious Christmas gift but are you on a slight budget? Then choose the MOR Christmas Cracker with Blood Orange Hand Cream, a very luxurious choice that every woman can appreciate.
The Benefits of Blood Orange Hand Cream
Blood orange is a fruit that is often used in cosmetics due to its healing and restoring properties. Subsequently, you can also find many of these benefits in the Blood Orange Hand Cream from cosmetics giant MOR.
The blood orange has many benefits for your health, but also for your skin specifically. A blood orange contains loads of vitamins, including vitamin A, this is the vitamin you really need in order to keep your skin healthy. Vitamin A will ensure that your skin looks and feels healthy, but also promotes the development and preservation of skeletal tissues.
The MOR Cracker
What would Christmas be like without a Christmas cracker? MOR Cosmetics certainly believes you need a beautiful Christmas cracker with a nice surprise for Christmas, so you will be able to find the MOR Cosmetics Christmas cracker in this beautiful gift set as well!
More Amazing Gift Hampers
Hamper Emporium offers more than only cosmetics and
Christmas hampers
. On our website you will be able to find gift hampers for any type of occasion, whether you need something for a birthday, anniversary, wedding or birth.
Check out our entire range of gift hampers for some unique gifts. We have also divided our gift hampers into various categories, so it is a lot easier to find the gift hamper you are looking for.
Discover More Luxurious Christmas Hampers
Is our MOR Christmas Cracker with Blood Orange Hand Cream not really the Christmas hamper you have been looking for? No problem at all, because Hamper Emporium also offers other Christmas hampers.
In the Christmas hampers range of hamper emporium, you will find countless other Christmas hampers as well, this includes chocolate hampers, corporate gift hampers, and gourmet hampers. You will even find gift hampers containing delicious wines and champagnes.
Would you like to acquire some of our Christmas hampers? Then head over to our Christmas hampers section and discover all the great Christmas hampers we have available for you!
Enjoy a Free Standard Delivery
When you choose our MOR Christmas Cracker with Blood Orange Hand Cream, you can take advantage of a free standard delivery offered by Hamper Emporium.
Customers living in Sydney Metro can also benefit from a same day delivery. For a small additional fee of $12.95 you can get your beautiful Christmas hamper on the same day of ordering.
For more information about deliveries and delivery times, head over to our delivery page.
Need More Information?
Do you need more information about the MOR Christmas Cracker with Blood Orange Hand Cream? Contact our customer support team at 1300 459 452 for more information.
Customers can also give us a call for some gift advice. Are you having trouble deciding what to give to someone? Then ask the advice of one of our experts and pick out the perfect gift.