MOR Compact Mirror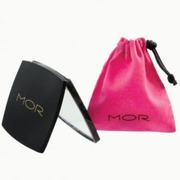 Luxurious compact mirror from MOR cosmetics, the perfect stocking filler for Christmas or just to pamper yourself. A beautiful compact mirror made by MOR Cosmetics, a good gift for any woman that loves quality cosmetics. A beautiful mirror that fits perfectly in your handbag, meaning it is also perfect to take with you when you go out, produced by MOR Cosmetics.
Sleek, elegant and discrete, MOR's Limited Edition Compact Mirrors are perfect to keep by your side for those sneaky touch ups.
Check How You Look No Matter Where You Are! Choose the MOR Compact Mirror
Many people are already familiar with MOR Cosmetics, one of the best Australian cosmetics brands. Because of the fact that Hamper Emporium believes in the quality of MOR Cosmetics, we love to provide our customer with their excellent products. One of these products is the MOR Compact Mirror. Read more about this great MOR product below.
Beautiful & Protected
With the MOR Compact Mirror, you can check how you look no matter where you are. This mirror has a simple design and is protected by a nice MOR branded case. The MOR Compact Mirror also comes in a nice pouch, which provides you with extra protection for your new beauty accessory.
Who Is MOR Cosmetics?
MOR Cosmetics is one of the leading cosmetics manufacturers and distributors in Australia. The brand is famous for its high quality products and affordable prices.
The MOR Cosmetics brand was founded in 2001 and has been focussing on bath, body and lifestyle products. From body lotions to fragrances, you will find everything you need at MOR.
MOR Cosmetics Gift Hampers
Since MOR Cosmetics are very popular, Hamper Emporium offers some beautiful gift hampers containing MOR Cosmetics. Do you want to gift someone one of these beautiful gift hampers? Then do not forget to head over to our gift hampers range and discover all the MOR Cosmetics gift hampers available on Hamper Emporium.
Christmas Hampers from Hamper Emporium
Next to MOR Cosmetics gift hampers, you can also count on Hamper Emporium for some gorgeous Christmas hampers. Our Christmas hampers can contain cosmetics, but also other luxurious items such as champagne, wine and some of the finest foods from France, Belgium and Australia!
In our Christmas hampers range, you will be able to find a number of categories to choose from, this should make it easier to find the Christmas hampers you are interested in. Whether you need gourmet hampers or chocolate hampers, it will be a fine Christmas with one of the gift hampers from Hamper Emporium.
Get It Today!
Do you want to receive your MOR Compact Mirror today or do you want to buy one of our other gift hampers that you need before tonight? If you live in the Sydney Metro area, you can take advantage of a same day delivery option. So if you are urgently in need of a gift, and you cannot make it to the store today, you can count on Hamper Emporium.
Customers who do not live in the Sydney Metro area do not need to despair, because Hamper Emporium offers a free standard delivery to all customers! No need to pay for the delivery of your gift hampers, you only need to pay for the gift itself!
Call Hamper Emporium for Help!
Would you like to know more about the MOR Compact Mirror? Or would you like some gift giving advice from one of our experts? Call the experts of Hamper Emporium at 1300 459 452 and get help right away!