MOR Cosmetics The Cherished Trio Handcream Gift Set 150ml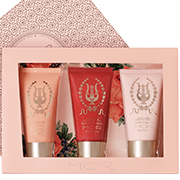 Three bottles of handcream from MOR Cosmetics that are tantalising for all the senses thanks to their beautiful fragrance. A beautiful selection of MOR Cosmetics handcream, perfect as a gift for birthdays, Valentine's Day or Christmas. A luxurious handcream set from Australian cosmetics giant MOR Cosmetics, known for their unique fragrances and quality cosmetics.
Let her be taken on a sensory journey for a treasured experience in celebration and appreciation of all that she has done.
Gift True Beauty with MOR Cosmetics the Cherished Trio Hand Cream Gift Set!
Do you want to gift some luxurious hand creams? Then you cannot go wrong with our MOR Cosmetics the Cherished Trio Hand Cream! These hand creams have some extremely beneficial ingredients, so let us take a closer look at what these hand creams can do for your skin!
Vitamin A
One of the beneficial ingredients you will find in these hand creams is vitamin A. As you may know, vitamin A is the perfect vitamin to eliminate wrinkles, brown spots and increase the smoothness of your skin. So if ageing is one of the worries of the recipient, these hand creams will go down well.
Vitamin E
The Cherished Trio Hand Cream Gift Set also contains vitamin E. This vitamin will moisturise your skin and keep it young and healthy. In addition to most hand creams and body lotions, you will also find it in most sunscreens and after sun treatments.
Shea Butter
Shea butter is also an ingredient that is very good for your skin, so you will also find it in this hand cream trio. Shea butter provides benefits such as moisturising, skin smoothing and inflammation reduction.
Our hand cream with shea butter also has an additional advantage, because it can visibly reduce and eliminate signs and outbreaks of acne. So if you are a regular sufferer of acne, this hand cream will contribute to a healthier looking skin.
Not Tested on Animals
Another great advantage to this particular trio of hand creams is the fact that they were not tested on animals. Many cosmetics companies still test cosmetics on animals, but MOR Cosmetics is not one of them.
If you are looking for a cosmetics gift for someone that absolutely loves animals, then this trio of hand creams will definitely be appreciated.
More Gift Hampers with Beauty Products
Would you like to see more gift hampers containing beauty products? Then be sure to look at our online catalogue with cosmetics gift hampers.
Hamper Emporium mainly offers gift hampers containing MOR Cosmetics products. MOR Cosmetics has an excellent reputation and their products are not tested on animals, which is definitely a good reason to choose these particular beauty products. Be sure to check out our entire range of MOR Cosmetics gift hampers and gift something truly special.
Also Amazing Christmas Hampers
Hamper Emporium is not only known for its great cosmetics gift hampers, but also for its Christmas hampers. In our Christmas hampers range you will easily find something for every type of recipient.
In our range of Christmas hampers you will find the perfect Christmas hampers for foodies, intellectuals as well as beauty product fanatics.
Do you need some advice before you can acquire any of our Christmas hampers? Then be sure to contact our customer support team for some additional help.
Contact Us
Customers who require additional information about our hand cream trio can always contact our customer support department by calling 1300 459 452. Outside office hours you can also contact us by entering your question on the online enquiry form. As soon as our customer support department gets your question, we will send you a reply.