MOR Emporium Belladonna Soy Wax Candle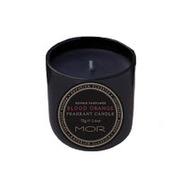 Beautiful candle from MOR Cosmetics with the trademarked Belladonna fragrance MOR Cosmetics is famous for. Quality candle from MOR Cosmetics with a fragrance of white narcissus, Moroccan rose, pink tulip, French cassis and patchouli. A handmade candle from MOR Cosmetics with a removable lid so it can be taken with you when you are travelling.
Place it by the bathtub or next to the bed for ultimate relaxation, this soy wax candle with Belladonna scent is devine.
Gift the Belladonna Soy Wax Candle for Excellent Relaxation
When you want to gift someone a relaxing gift, we can certainly recommend the soy wax candle from MOR Cosmetics. The soy wax candle is a beautiful addition to the Belladonna gift set and is available in multiple gift hampers on our website.
Handmade Quality
The Belladonna Soy Wax Candle is handmade from top to bottom and has a considerable longer lifespan than most candles. One soy wax candle from the Belladonna range can burn up to an amazing 60 hours.
Gorgeous Fragrance
Recipients will certainly appreciate the gorgeous fragrance of this product as well. The Belladonna Soy Wax Candle smells of white narcissus, Moroccan rose, pink tulips, French cassis and patchouli.
Great for Relaxation
The soy wax candle does not only look good as a decoration in your home, it is very relaxing as well. The fragrance of this soy wax candle will have you relaxed in no time. The best thing of all? You can also take the candle on holiday, because it is small enough to carry around with you when you need relaxation the most!
More Gift Hampers for Extreme Pampering
Hamper Emporium customers can find the Belladonna Soy Wax Candle in many of our gift hampers. However, where pampering is concerned, there are two gift hampers we can definitely recommend, including the Belladonna & Sparkling Pamper Hamper and the Belladonna Pamper Hamper.
Each of these gift hampers contains additional items that will help you relax and enjoy to the best of your abilities, including a bottle of champagne and gorgeous French biscuits.
Want to know more about one of our gift hampers? Then click on the title or the picture of the gift hamper to find out more information!
Beautiful Christmas Hampers
Customers can also count on Hamper Emporium for some gorgeous Christmas hampers. Each and every year, customers count on our beautiful selection of Christmas hampers to make their Christmas the best it can be.
In our selection of Christmas hampers you will have plenty of choice where products and items are concerned. Our selection of Christmas hampers contains gourmet foods, amazing alcoholic beverages and luxurious items. Be sure to check out our entire range to see all the Christmas hampers we have available!
Free Standard Delivery!
Did you know that all customers at Hamper Emporium can enjoy a free standard delivery, no matter the type of gift hamper they purchase? So, if you want to purchase one of our gift hampers with a Belladonna soy wax candle, Hamper Emporium will deliver it for free.
Customers in Sydney Metro can also obtain a same day delivery for the small extra fee of $12.95. As long as you order your gift hamper before 1 PM on a work day, we will deliver your hamper the very same day.
Need More Information on the Belladonna Candle?
Do you need any extra information on the Belladonna Soy Wax Candle or MOR Cosmetics products? Be sure to give us a call on 1300 459 452 and our team will gladly answer your questions.