MOR Emporium Midnight Blue Cosmetic Case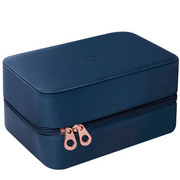 Functional cosmetic case from the MOR Cosmetics brand, includes their trademarked rose-coloured hardware. A trademarked MOR Cosmetics case with a hard cover to protect your most valuable cosmetics. Spacious cosmetics case in midnight blue that can hold all your daily cosmetics, produced by MOR Cosmetics.
With a generous interior, this versatile cosmetic case is waterproof, and features a solid hard case cover with rose gold hardware.
Find the Most Convenient Cosmetics Case in the MOR Emporium Midnight Blue Cosmetic Case!
Every woman needs a decent cosmetic case, so what better gift than the MOR Emporium Midnight Blue Cosmetic Case? This particular cosmetic case has a hard case cover and some beautiful rose gold details. Let us take a closer look at this exquisite case and all our gift hampers containing this case!
Beautiful Design
The MOR Emporium Midnight Blue Cosmetic Case has a beautiful yet simple design. The cosmetic case is large enough to store all your favourite makeup products and take them with you no matter where you go!
Belladonna & Sparkling Pamper Hamper
One of our gift hampers containing the MOR Emporium Midnight Blue Cosmetic Case is the Belladonna & Sparkling Pamper Hamper. In addition to this beautiful cosmetic case, you will also find a Belladonna soy wax candle, gorgeous champagne and delicate French Biscuits. For a full description on these gift hampers, please click the title or picture of the gift hamper.
Belladonna Pamper Hamper
Another great choice in our selection of gift hampers is the Belladonna Pamper Hamper. Next to the cosmetic case, you will also find delicate French biscuit roses and a great soy wax candle.
More Amazing Gift Hampers
Are you looking for more gift hampers? Then you are in the right place on Hamper Emporium, since we are Australia's number 1 supplier of exquisite and high quality gift hampers.
From gourmet foods to beauty products, our gift hampers will never disappoint. Be sure to check out our entire selection, because we have some great things to offer you!
Christmas Hampers That Suit You
Hamper Emporium would not be Australia's number 1 hamper supplier if we did not offer a great selection of Christmas hampers. Our Christmas hampers contain quite a diversity of items, gourmet foods, delicious champagne, exquisite wine and so much more.
Our Christmas hampers can also be personalised for businesses. Would you like to add some corporate branding to your Christmas hampers? Then you are also in the right place at Hamper Emporium. Simply talk to our in-house graphics designer with your requirements and we will apply everything to the hamper of your choice.
Get Your 5% Discount
Would you like to take advantage of a 5% discount while you are shopping for this gorgeous Midnight Blue Cosmetic Case from MOR Cosmetics? No problem! All you need to do is enter your email address at the bottom of this page and you will receive a coupon code that will give you a 5% discount!
Everyone who shops at Hamper Emporium also gets a free standard delivery, so you will only have to pay for the product itself!
Need Help?
Do you have any additional questions about our MOR Emporium Midnight Blue Cosmetic Case? Or questions about our gift hampers or Christmas hampers? Do not hesitate to contact our team of professionals! Simply call 1300 459 452 and we will answer your question right away. Outside office hours you can also fill in our online enquiry form to get your question answered.