MOR Marshmallow Perfume Oil 9ml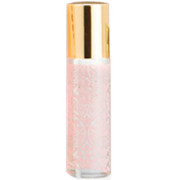 Luxurious MOR Cosmetics perfume oil, giving you a fragrance of vanilla musk and jasmine flowers. A beautiful bottle of Marshmallow perfume oil, contains vitamin E to rejuvenate your skin and adding extra functionality to your perfume oil. Beautiful feminine fragrance of vanilla musk and jasmin flowers, the perfect fragrance for women that enjoy luxury.
Contains sweet almond oil and avocado oil to give a lasting scent on the skin and a moisturising quality. Made in Australia. Have you ever wished of using a perfume with a lasting scent? Something that will not only leave you temptingly inviting to sense but as well as touch? If so then wish no more for there are gift hampers from The Hamper Emporium that offers this type of perfume, the MOR Marshmallow Perfume Oil in 9ml bottle. This perfume offers you a mixed scent of Vanilla and Jasmine flowers. Imagine oozing with this aroma anywhere you go, totally attention grabbing. Aside from its wonderful fragrance, you also get to enjoy other ingredients of this product that will help you take care of your skin without exerting too much conscious effort into it. As other MOR Marshmallow Perfume Oil users testified, this product will leave you feeling re-energised. So let's find out what are some of the cool features of this perfume oil.
What are the Key Features of MOR Marshmallow Perfume Oil in 9ml?
The MOR Marshmallow Perfume Oil contains more health benefits than what you have expected. It comes with Grape and Sesame Seeds, some Almonds, and Sunflower ingredients to enhance your skin and moisturise it well. If you need to rejuvenate your skin in fewer efforts, you can make use of this oil as it presents you with the Rose Hip Oil perfect for rejuvenation purposes. There's also Vitamin E content in this oil which takes care of the overall skin health.
Vitamin E helps nourish dry and flaky skin. You also get to enjoy this product as often as you want thanks to its Paraben and Sulphate free contents. It may not be tested on animals but one thing for sure; it is safe and perfect for just about anyone. So grab as many gift hampers as you want and give it to your girl friends, officemates and whoever needs it. Just purchase direct from The Hamper Emporium.
How Would You Describe the Scent of MOR Marshmallow Perfume Oil?
This perfume oil is said to be orchestrated with some of the worlds' delightful scents, the Vanilla Musk as well as the amazing Jasmine flower. Many would describe the scent of this product as something more feminine, perfect for women who want to feel and smell pretty all the time. In fact, this product is considered to very sweet smelling, which is almost comparable to a cotton candy. So take a hold of gift hampers with MOR Marshmallow Perfume into it, you won't regret buying this for a low cost.
Is There a Gift Hamper Offering This Perfume Oil?
To make it easy for you, there's one exceptional gift hamper of The Hamper Emporium that offers selection of MOR products, and it's the
Pretty in Pink Pamper Hamper
. This hamper if filled with great items ranging from sweet biscuits and chocolates, down to Brown Brother's Victorian Crouchen Riesling wine and the three MOR products that will really hydrate your skin. When ordering gift hampers, prioritise this hamper above all other gift hampers and you will not regret buying this for a reasonable price.