MOR Marshmallow Triple Milled Soap Tin 60g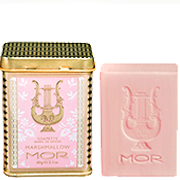 The famous MOR Cosmetics triple-milled soap from their Marshmallow line, an all-time favourite for many women all across Australia. Beautiful triple-milled soap from the MOR Cosmetics Marshmallow range, giving your softer and smoother skin. Traditional soap from MOR Cosmetics with hints of vanilla musk and jasmin flowers, delivering a beautiful scent unmatched by any other cosmetics brand.
Triple-Milled for a luxurious creamy lather, that pampers and softens dry skin. Made in Australia. A lot of women are now embracing the use of scented soap and one of the trending soaps in the market is the MOR Marshmallow Triple Milled Soap Tin in 60g. This soap tin is the chosen one of most Australian women and even worldwide because of its amazing scent; a mixture of the everlasting Jasmine flower and the tempting Vanilla Musk leaving you smelling so feminine. In addition, you get you enjoy its sweet scent thanks to its rose petals dipped carefully in sugar. It also has the White Carnation playing around your senses and its Cotton Candy scent that overall delivers a sweet perfume scent.
No wonder most gift hampers from The Hamper Emporium are filled with this product. What's great about this is its packaging, comes in a beautiful and very attractive tin. In fact, the tin used is considered to be a collectable one and filled with soapettes that are hard to resist thanks to its impressive scents and quality, giving you a decadent lather unlike any other soapette. This one is capable of making you feel fresh and smooth every after bath. So let's find out more about this product and why should you purchase gift hampers with MOR Marshmallow Triple Milled Soap Tin.
What Are The Key Features of MOR Marshmallow Triple Milled Soap Tin in 60g?
Before purchasing any gift hampers online, make sure the one you have chosen comes with MOR Marshmallow Triple Milled Soap. This product can certainly make your recipient feel special without spending a lot. So what are the key features of this luxurious product? As a start, this is said to have a vegetable base. This means you are using a 100% healthy soap that will make your skin glow healthily. In terms of its quality, this product is known to produce a creamy, decadent and luxurious lather that will make you enjoy every use of it.
What Are The Ingredients Used in This Soap?
Research shows that this soap contains one of the most nourishing ingredients you can have. It contains vitamin E which is a certified antioxidant. In other words, you are guaranteed to have a product which can protect your skin and the best part of all, even repair your skin like no other ingredients in soap can. Of course, this one has Shea butter too which has a lot of uses aside from nourishing your skin. This ingredient offers healing property which is a perfect combination with vitamin E. So if you need gift hampers that are not only affordable but as well as healthy for the recipient, make sure you purchase gift hampers of The Hamper Emporium with MOR Marshmallow Triple Milled Soap Tin in it.
What Gift Hamper Offers the Triple Milled Soap Tin of MOR Cosmetics?
One of the popular gift hampers you should grab online from The Hamper Emporium is the
Pretty in Pink Pamper Hamper
. This hamper is priced practically giving you a good list of products ranging from delectable biscuits and sweets, wine & champagne, some chocolates and the best part of all, some giftable items from one of the best cosmetics brand, the MOR Marshmallow. This hamper is filled with MOR cosmetics like its perfume oil in 9ml, its hand cream in 50ml and the soap tin which is commendable for those who are fond of travelling. The soap tin comes in a travelling size; anyone can bring it without any hassle. It is also safe for everyday use because it does not include any paraben contents or even sulphate. So hurry now, grab gift hampers with healthy products in it, and make sure yours have the MOR cosmetics to ensure your gift recipient will enjoy your hamper even more.