*NEW* Organic Cotton Hooded Towel by Bubba Blue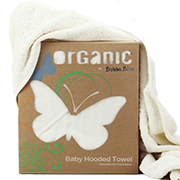 Beautiful organic towel without harmful chemicals for babies, softer and safer than any mass-produced baby towel! Environmentally-friendly towel for baby , made from the finest organic materials and produced with respect for mother earth! A soft organic towel , very suitable for baby's soft skin and for parents who value organic products.
Made from Organic cotton and designed in Australia, Bubba Blue's cotton is super soft on baby's delicate skin. 80 x 80cm.
Perfect for snuggly, cuddly bath times, baby will thank you for this organic, soft cotton towel.


Give Your Baby the Best, Choose the Bubba Blue Organic Cotton Hooded Towel When your baby is born, you want to give your child the best. Hamper Emporium also offers the best for your baby, more specifically under the form of organic baby hampers. One of the organic products in our baby hampers is the organic hooded towel. So read on and discover all the benefits! The benefits of organic products Customers who are looking for baby gifts, tend to do for organic nowadays. We cannot say we blame them, because the amount of chemicals in baby products that are not organic can cause damage to the skin of your baby. Getting organic bath products for your baby is recommended, but additional accessories are also a good idea. One of them is the organic hooded towel that you can find in our gift hampers. Organic products will not damage the skin of your baby, because they do not contain any of the harmful chemicals you really want to avoid for your child. In addition to that, you are also protecting the environment, because all organic products are perfectly recyclable as well. Bubba Blue The organic hooded towel you will find in our baby hampers is created by Bubba Blue, a brand that is famous for its organic baby products. Everything coming from Bubba Blue is also recyclable and will not negatively affect your baby's health. Baby Hampers with organic products Are you interested in obtaining organic baby hampers for a newborn baby? Then you are in the right place at Hamper Emporium, since we offer a considerable amount of organic baby gift hampers. Three of the organic gift hampers we can recommend for newborn babies are the Nature's Child Bath Time Natural Baby Hampers, the Organic and Natural Baby Hampers and the Natural Collection Baby Hampers. For more information about the products in the hamper, please click on the picture of the hamper that interests you to see a full product description. Hamper Emporium Also Provides Christmas Hampers Next to an incredible large range of baby hampers, Hamper Emporium also provide a pretty decent range of Christmas hampers. Whether you like to gift chocolate or some exquisite, luxurious biscuits, Hamper Emporium has just the thing. To see our selection of Christmas hampers, please go to the menu above this page and click on Christmas hampers. You will immediately notice three categories of Christmas hampers, more specifically corporate hampers, chocolate hampers and gourmet hampers. These categories make it a lot easier to find Christmas hampers you are interested in. If you are still unsure, simply scroll down to immediately view all the Christmas hampers we have in stock. Contact Us for More Information Is this the first time you are shopping for organic baby hampers or Christmas hampers? Then do not hesitate to call our customer support team for some additional advice. Simply give our team a call at 1300 459 452 or send an email to sales@thehamperemporium.com.au to get all your questions answered.
Organic hooded towel that's soft and plush and perfect for helping make baby feel happy and cosy at bath time.
---