Peter Rabbit 'Sweet Dream Peter' Board Book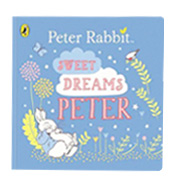 Little lady bugs and the gorgeous Peter Rabbit and more, there's lots to occupy and enjoy in this gorgeous book. A book that will keep baby and adults captivated and occupied for the perfect bonding time together. There's few things more magical than the world of Peter Rabbit and adults and baby will adore this book.
From a little ladybug resting under a leaf to Peter snoozing under his blanket - children can say good night to them all. The magic of Peter Rabbit comes to life in this gorgeous book that both children and parents will love. An adorable story staring the wonderful world of Peter Rabbit from Beatrix Potter.
---