Pure Baby 3 Pack of Socks in Baby Blue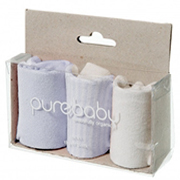 Excellent selection of socks from the Pure Baby brand, one of Australia's favourite baby clothing brands. Gorgeous pack of socks from Pure Baby, one of the favourite brands of new parents. Selection of Pure Baby socks, suitable for newborn baby boys between 0 and 6 months.
A three pack of socks from Australia's most loved baby brand with soft ribbed opening and Pure Baby logo design. 0-6 months.
Looking for High Quality Baby Socks? Discover the Pure Baby Socks in Baby Blue!
When it comes down to baby products, your baby only deserves the best. For that reason, Hamper Emporium only chooses the best brands for its gift hampers. In our selection of gift hampers, you will also find a three pack of beautiful baby socks from the Pure Baby brand.
What Is The Pure Baby Brand?
Pure Baby is a very special baby brand, because their products are completely organic. When it comes down to choosing baby products, you do not want clothing or toys with unwanted and dangerous chemicals, so choosing organic is always the best thing to do.
Since Pure Baby only uses organic materials, you can fully trust all the products released by this brand. Customers can also find a lot of Pure Baby products in our gift hampers, including clothing!
Can You Tell Me More About The Baby Socks?
The Pure Baby socks in our
gift hampers
consists of 75% organic cotton. Each of the socks has the Pure Baby logo, so it is a certified organic product.
Want to get a pack of Pure Baby socks as well? Then check out our entire range of baby gift hampers to see your options.
Do You Have More Pure Baby Products?
Hamper Emporium offers more than just Pure Baby socks, because we offer quite a range of Pure Baby products in our gift hampers. Other products from the Pure Baby brand you can find in our baby hampers are grow suits, mittens and hats.
What Is The Delivery Cost?
Customers who shop at Hamper Emporium do not have to worry about the delivery cost. All baby hampers on Hamper Emporium have a free delivery, so you only pay for the hamper itself!
We also have a same day delivery for customers in Sydney Metro, available for a small fee of $12.95. As long as you order the Pure Baby socks before 1pm on a work day, Hamper Emporium will deliver them a few hours later.
Do You Have Gifts for the Parents?
Customers can find suitable gifts for the parents in our Christmas hampers range. In our range of Christmas hampers, you will find chocolate, gourmet foods, champagne, wine, beer and so much more. By choosing a gift from our Christmas hampers, you simply cannot go wrong.
The range of Christmas hampers we have available is obviously very popular during the holiday season as well. Even businesses use our Christmas hampers as corporate gifts. At Hamper Emporium it is possible to add corporate branding to a Christmas hamper of your choice.
Simply contact Hamper Emporium over the telephone to add some corporate branding on your favourite Christmas hamper, or pick one of the options on the corporate hampers page.
Need More Information About Pure Brand Socks?
Do you have any questions about the organic Pure Brand socks? Feel free to call our customer service team at 1300 459 452. Our team of gift experts will be more than happy to assist you and answer any question you may have.