Pure Baby Organic Cotton Mittens in White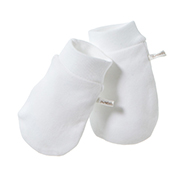 A beautiful pair of white mittens from the Pure Baby brand, made from 100% organic cotton. Gorgeous white mittens for newborn babies, available in a one size fits all and made from the finest organic cotton. Comfortable mittens from Pure Baby in white, will keep your baby's hands safe and warm during cold weather.
Beautiful soft organic cotton mittens with elasticised opening for a comfortable and secure fit. One size fits all.
Pure Baby Organic Cotton Mittens: Best Gift Hampers for Little Ones
Having a baby is one of the most fulfilling things in this world. For first time parents, having a wonderful blessing is truly exciting. At the same time, however, expecting a baby can make them feel anxious about many things. Having a newborn in the family is not easy so parents always have to ensure the baby's safety and protection. Thus, if you are eyeing for baby gifts to put on your gift hampers, you have to be very picky and wise when shopping.

Remember that parents always want the best for their kids so you must always put the quality on top of everything. Don't ever buy gifts that are dangerous for baby; only opt for safe baby stuffs. Most parents may have high standard when it comes to the things they will use for their babies so as much as possible, you must follow those standards so parents will be happy when they see what's in your gift hampers.

Cute and Comfy Baby Mittens for your Gift Hampers
Baby mittens are one of the things that most hospitals require parents to bring along with baby's clothes and bathing essentials. Because babies' skin is still sensitive to coldness, baby mittens will be needed to keep them warm. They will also prevent babies from catching cold and give the warmth he needs while nobody is holding their little hands. However, these mittens are required not only in hospitals. When babies go home, they will still need to wear baby mittens especially on cold weathers.

Hence, if you are looking for a perfect gift for babies, these cute and comfortable baby mittens from the Hamper Emporium are truly a great buy. Because most parents only let their newborn babies wear white garments in the first months or year, it is wise to choose these organic cotton mittens that come in white colour. White speaks of purity and cleanliness so opting for white mittens will be excellent. Also, white is a neutral colour so you can give these lovely mittens whether the baby is a boy or a girl. Undoubtedly, any parents will love these Pure Baby mittens as they perfectly fit the hands of their little ones.

Organic Cotton Mittens to Fill in your Baby Shower Gift Hampers
Baby shower is probably the most exciting part of expecting especially for mothers. Balloons, sweets and gifts are everywhere and everybody is wearing smiles on their faces as they share the joy and excitement of the parents. While old baby showers are just a simple event to show express the gratitude and bliss of expecting parents, baby showers nowadays are more of a gender reveal party in which guests and even the parents are clueless about the gender of the baby. They anxiously await the result and sometimes, the revealing of the baby's gender come in cakes.

Because of this trend, it is now harder for some people to choose gifts for baby showers. Nonetheless, you can easily find the most suitable gift for any gender by opting for something neutral. For baby showers or gender reveal parties, it is very ideal to put these white mittens on your gift hampers. Because of their neutral colour, this will be an excellent gift even you are clueless of the baby's gender. Also, these beautiful organic mittens are perfect for your gift hampers as they are very safe for babies. They are also soft as they are entirely made of cotton, ensuring baby's comfort throughout the day. With Pure Baby mittens, you can help the parents' protect their children and give them the love and warmth they deserve in the most touching way.

Affordable Organic Mittens: Best Gift Hampers for Babies
Babies are truly a Godsend as they alter the lives of every parent. They are the perfect gift for their parents and to show your love for these babies, you must also give them the best gift hampers that they will surely treasure as they grow. Luckily, you don't have to go too far and spend a lot of bucks to find the best gift hampers for those adorable babies. At The Hamper Emporium, you will surely find the gift that best suits your needs and desires in a very affordable price. Add these organic white mittens to your gift hampers and make gift giving more effortless and easier on the pocket.