Snuggles Bear in Baby Pink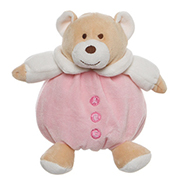 Very soft bear in baby pink, a great gift for a newborn baby girl that needs a little comfort at bedtime. Cuddly bear that can keep the newborn baby company while sleeping, the softness of the bear provides comfort and relief. Soft cuddly toy that is a favourite for many newborn babies, the perfect gift for a newborn baby girl.
A soft, snuggly teddy that makes the perfect first companion for the newborn baby girl. Measures 15cm. Little baby bears can definitely make a little girl's wish come true. With its very soft and cuddly texture, every mother will surely purchase bear toys to make their princess comfortable than ever. Good thing The Hamper Emporium is there to provide Aussies with the best gift hampers with Snuggles Bear in Baby Pink colour, to pamper their little girl. Babies, toddlers and even growing children will fall in love with this baby pink stuff toy especially during bedtime. If you need to give gift hampers for special occasions, and the recipient of your hamper has a little darling, why not purchase gift hampers with Snuggles Bear in Baby Pink in it? Your hamper will not only satisfy the recipient but as well as his or her little sunshine.
What Are the Cuddliest Gift Hampers You Can Purchase Online?
If your gift recipient has a cute little baby girl, you can certainly purchase gift hampers with toys in it. Just like what The Hamper Emporium offers, there are some gift hampers prepared to satisfy the mother and the baby in one basket. There's the Snuggles Baby Gift Hamper and the Snuggles Baby Girl with Moet. These two gift hampers come with the snuggles bear in baby pink colour, which can melt everyone's heart. Once the little girl grabs this toy, she will surely not let it go. This is how magnetic the toy is, no wonder a lot of loyal customers of The Hamper Emporium prefer to purchase gift hampers from this awesome site. It gives pleasure with the hampers delectable delights as well as pleasure to the heart. These two gift hampers are priced accordingly, leaving it possible for those who wish to grab it.
What's Inside the Snuggles Baby Girl Hamper?
It is just right to check if what are the contents of your chosen gift hampers. In fact, the contents are the deciding factor if whether you should grab such hamper or not. For the Snuggles Baby Girl Hamper, this one comes with the Maison Fossier's pride biscuit, the Maison Fossier 12 Biscuit Roses in 100g pack. It also contains the Chardonnay NV of Brown Brothers and some gifts and accessories which your baby will surely enjoy. This hamper is filled with baby pink soft blanket from the Teddytime. The Marquise brand is also included, featuring its popular and highly in demand bunny soft singlet. Above all, there's the Snuggles Bear in Baby Pink colour, to provide unbeatable comfort to the baby all day and night.
Should You Purchase Snuggles Baby Girl with Moet Gift Hamper?
If you feel that you need gift hampers worth buying and spending for, the Snuggles Baby Girl with Moet is a perfect choice. Gift hampers are prepared differently, some are intended for baby boys while other are intended for baby girls, and this Snuggles Baby Girl with Moet is truly planned for your special baby girl. So hurry now, purchase this hamper before it runs out. The Hamper Emporium offers this at an affordable rate, at the same time filled with yummy biscuits from Maison Fossier, an expensive Champagne and baby gifts and accessories that will really bring bunch of smiles to your baby girl.