Snuggles Bear in Neutral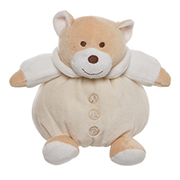 The perfect bear to provide a newborn baby with lots of comfort, measures approximately 15 centimetres. Gorgeous Snuggles Bear with a neutral colour so it can be bought for newborn baby girls and boys. A beautiful cuddly bear with a neutral colour, an excellent gift for a newborn baby boy or girl.
A snuggly cuddly little bear to comfort the newborn baby boy or girl. Measures 15cm high. Without a doubt, finding baby toys commendable for both boys and girls can be hard. Toys are usually classified into two, for boys and for girls. Good thing there are few chosen products that can be given away for both gender. Therefore, having this flexible type of toy is great for it can be used by all siblings, regardless of their gender. The gift hampers of The Hamper Emporium proudly presents admirable baskets with gender neutral toy, such as the Snuggles Bear in Neutral. Buying this won't cause any problem, your son and even your daughter can play around with this toy. This is perfect for babies as it comes with a cute appearance, a cuddly texture; it measures around 15 centimetres, comes with high quality materials and made perfectly to last for years of frequent use.
What Are The Different Gender Neutral Gift Hampers of The Hamper Emporium?
If you are not sure of your friends' baby gender, there's one thing you can do to ensure you got the right gift. By purchasing gender neutral gift hampers online, you are guaranteed that your gift hampers will be used in the future, whether the baby is a boy or a girl. The Hamper Emporium is wise enough to offer customers with gift hampers for parents who do not know the gender of the baby. It could be a surprise hence the baby's gender is not known, therefore purchasing either the Snuggles Baby Hamper or the Snuggles Baby Hamper with Moet is a good idea to be safe when giving gifts. These two gift hampers are highly recommended because of its price, contents and above all, the quality of all items in it.
Is Snuggles Baby Hamper Perfect for Surprises?
If you are attending a surprise party, and you are not sure of what gift hampers to provide, you can rely on the Snuggles Baby Hamper to avoid returning your gift for an exchange later on. If your friend does not want to announce the gender of their baby, fret not for the Snuggles Baby Hamper has all you need. As a start, this one is sprinkled with giftable baby stuffs like the Marquise Bunny Soft Cotton Singlet, this singlet can be used by either a baby boy or girl. There's also the Teddytime Super Soft Blanket in Cream colour! As you can imagine, cream is a gender safe colour too. Of course, there's the Snuggles Bear in Neutral perfect for your little princess or prince.
Is Snuggles Baby Hamper with Moet a Good Deal to Purchase?
Everyone wants to avail of a good deal hamper, if you are tight in budget or perhaps does not know what kind of gift to purchase for your dear friend who just gave birth, the Snuggles Baby Hamper with Moet is a good deal hamper! Aside from avoiding any returns or exchange of your gift, everyone can celebrate the occasion and the arrival of the new baby by drinking the Moet & Chandon Brut Imperial NV Champagne. It is placed in a 750ml bottle enabling a lot of guests to enjoy its yummy taste. This hamper also contains the gender neutral toy from Snuggles Bear, the safe yet sophisticated cream blanket of Teddytime and a lot more. Yes, this gift hamper is truly a good deal to purchase so visit The Hamper Emporium now, your one stop reliable online gift hamper provider.