Sophie La Giraffe Pop-Up Peekaboo Book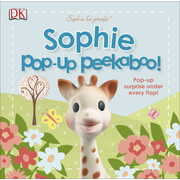 The classic Sophie La Giraffe book, stimulating your baby's senses and helping their early reading skills. Great pop-up book for newborn babies and toddlers, which is part of the Sophie La Giraffe baby line. Educational pop-up book for newborns and toddlers, promoting the language and early reading skills of your child.
Toddlers and babies can giggle in delight as Sophie the Giraffe and her friends pop up from hiding places in this exciting peekaboo board book. Ensure The New Baby Enjoys Learning With The Sophie La Giraffe Pop-Up Peekaboo Book! Learning does not have to be boring and you can give this wisdom to every child. The Sophie La Giraffe Pop-Up Peekaboo Book in our gift hampers are not only fun, but educational as well. Check out our gift hampers and find out what other things we can offer you! Why Should I Choose the Sophie La Giraffe Pop-Up Peekaboo Book? The educational value of this book is not the only benefit you can get. With our Sophie La Giraffe Pop-Up Peekaboo Book you do not have to worry about safety either. The book was made with newborns and young babies in mind, so there is no way that this book could harm the child in any way. What Gift Hampers Contain This Book? As you may already noticed, Hamper Emporium has a huge selection of baby gift hampers. Customers can find the Sophie La Giraffe Pop-Up Peekaboo book in three of our luxurious baby gift hampers. These gift hampers are: the Sophie La Giraffe with Red Stripes, the Sophie La Giraffe with Grey Stripes and the
Sophie La Giraffe with Navy Stripes
. All three baby hampers are quite similar, because the only difference is the colour of the clothing in these hampers. The grow suit and knot hat are provided by famous clothing brand Pure Baby, but you will also find an exquisite singlet by Marquise. Of course, these hampers would not be complete without another Sophie La Giraffe gift, so you will also find a beautiful teether from the Sophie La Giraffe brand! What Should I Give The Parents? If you would like to give an extra gift to the parents, we can recommend having a look at our range of Christmas hampers. Our range of Christmas hampers is not only suitable for the holiday period, because you will find loads of Christmas hampers that will be appreciated by the new parents as well. In our range of Christmas hampers you will find a wide selection of chocolate, alcohol and gorgeous gourmet foods. All customers who choose one of our Christmas hampers can count on exquisite quality. How Much Postage for Your Hampers? When you shop at Hamper Emporium, you do not have to pay any postage on any of our gift hampers. To make customers fully enjoy our range, we made all our hampers eligible for free standard delivery. Hamper Emporium currently delivers hampers all over Australia and the maximum waiting time is approximately 7 days. If you want to know more about the estimated delivery time of your baby or Christmas hamper, please refer to our deliveries page. Can I Call You For More Information About The Sophie La Giraffe Book? Would you like to know more about the Sophie La Giraffe Book before you purchase it? Give our customer service team a call at 1300 459 452 or send your question via email at sales@thehamperemporium.com.au. Customers can also use the online enquiry form which can be found on the contact us page. Simply enter your details and question and we will get back to you as soon as possible. Such fun for baby, this peek-a-boo book features world-famous Sophie La Giraffe that's guaranteed to keep them smiling.
---