Sophie La Giraffe Teether in Gift Box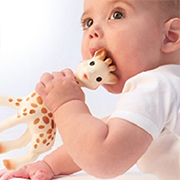 The famous and functional Sophie La Giraffe teether in a beautiful gift box, a great gift for the newborn baby as well as the parents. Gorgeous teether from the Sophie La Giraffe brand, made from only natural rubber and non-toxic paints. The real Sophie La Giraffe teether, soothes the baby's sore gums and stimulates the senses through its soft colours.
First manufactured in France in 1961 and now world famous, Sophie is made from natural rubber and is a must have for all babies.
Sophie is an companion for baby during their teething months. Made from natural rubber she provides relief from sore gums. Made in France.
Relieve Baby's Discomfort with the Sophie La Giraffe Teether!

The discomfort of teething can often be too much for the baby as well as the parents. When it comes down to teething pains, it is often difficult to soothe the child, however, there are certain things that might help. One of these things is the Sophie La Giraffe Teether, which can be found in many of our baby gift hampers.

What Advantages Can I Get From This Teether?

Our Sophie La Giraffe Teether, which you can find in our gift hampers, provides plenty of advantages for the child. First of all, the teether was made with natural rubber, so it is completely free of harmful chemicals.

Of course, a good teether is also safe for the baby and this is definitely the case for the Sophie La Giraffe Teether from our gift hampers. The baby can chew on the toy without any difficulty and it will comfort any pains pretty quickly. The toy also makes a nice noise, so it also stimulates the hearing of the baby!

Where Can I Find the Sophie La Giraffe Teether?

The Sophie La Giraffe Teether can be found in five of our gift hampers. These hampers are the Sophie & Moet Baby Gift Hamper, the Sophie La Giraffe with Red Stripes, The Sophie La Giraffe with Grey Stripes, the Natural Collection Baby Hamper and the Sophie La Giraffe with Navy Stripes.

All products in these gift hampers are of the best quality and you will also find that some of our hampers only contain organic products. Customers who are concerned about the environment or are concerned about the chemicals in certain products, should definitely have a look at these organic gift hampers.

Our hampers also contain clothing from some of the largest baby clothing brands in Australia. A few examples of these brands are Marquise and Pure Baby. So if you want the best for the new baby, our gift hampers will be a very safe choice.

Do You Have Gifts For the Parents As Well?

Next to our baby hampers, you will also find a large range of Christmas hampers in our range, which contain loads of goodies for the new parents as well. In our Christmas hampers range, you can make your choice between chocolate, alcohol, gourmet foods or a combination of all these products!

Are you dealing with an unexpected birth and do you need an urgent gift for the new parents? Are you living in the Sydney Metro area? Then you are in luck, since you can still take advantage of our Christmas hampers and the same day delivery option!

All Christmas hampers on Hamper Emporium are also eligible for free standard delivery, so if you pick one of our Christmas hampers you will not pay anything to get it delivered to your doorstep.

Do you have any additional questions for us? Then be sure to give us a call at 1300 459 452 or send us an email at sales@thehamperemporium.com.au. For more information about corporate hampers, please send your question to
corporate@thehamperemporium.com.au.
Sophie is the perfect companion and friend for the baby who is working through the uncomfortable process of teething. Since 1961.
---