Spa Essentials Linen Bathing Mit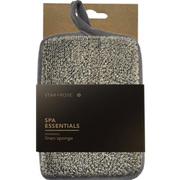 Perfect for daily use this linen mit gently cleanses and exfoliates skin. His skin will be left feeling rejuvenated after every shower. The ideal size for travel, the Linen sponge will fit perfectly in any toiletries bag. Use with shower gel for the perfect lather. A durable shower essential, this linen mit is ideal for gentle daily exfoliation and cleansing on all skin types.
A great addition to the bathroom, this linen mit with gently cleanse and exfoliate his skin leaving it clean and invigorated.
Use it with his favourite bath or shower gel, this linen sponge will gently exfoliate and cleanse. Skin will be left feeling refreshed.
Designed to be used daily and perfectly sized for travel, this linen mit exfoliates and cleanses skin gently, leaving it feeling fresh.
---