Teddytime Super Soft Blanket in Baby Blue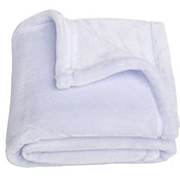 Gorgeous soft blanket created by Teddytime, enabling the parents to provide the newborn baby with superior warmth. Soft blanket of the finest quality, providing all newborns with superior comfort and essential warmth. Blue blanket from Teddytime, giving the newborn great comfort and warmth when they need it.
This baby blue fleecy soft blanket from Teddytime is perfect as baby's first bassinet or stroller blanket. 90 x 70cm Giving only the best for your baby is normal; this is what most parents aspire to do. This is why looking for the best in all things for your baby is understandable. From the milk your baby drinks, down to the food he or she eats, the diaper used, the toys played and even on the blanket used, parents must always be meticulous and vigilant to have nothing but the best. This also means that when purchasing or even accepting gift hampers for your child, you must be very particular. Fortunately, gift hampers from The Hamper Emporium are well thought of, giving parents the peace of mind they need when purchasing gift hampers for their adorable babies. So let's find out the different helpful tips on how to choose the best blanket for your baby.
What Are The Factors to Consider Before Buying a Baby Blanket?
Before choosing the right blanket for your baby, you must first identity the material perfect for his or her skin. Experts believe that the use of soft cottony blanket is highly recommended because it has lesser chances of irritating the baby's skin. Just like the Teddytime Super Soft Blanket in Baby Blue colour which is incorporated in some gift hampers from The Hamper Emporium. This fleece blanket is really soft; your baby will really enjoy being cuddled with this blanket. It measures 90x70cm which is perfect even for newborns. You also need to consider the style of blanket you want. There are receiving blanket, swaddle blanket, baby wrap, and a cotton sleep rack. So make sure you educate yourself of these types of blanket before buying gift hampers online with blankets in it.
Does Baby Blanket Size Matter?
Blankets have varying sizes and note that size definitely matters. You should know the blanket size so you can match it perfectly with your crib, or at least you can use it comfortably with your baby. If you need wide blankets, you can check gift hampers of The Hamper Emporium as it offers the super soft blanket of Teddytime. In fact, there are two amazing gift hampers offering such product in it, the Snuggles Baby Boy Hamper and the
Snuggles Baby Boy with Moet
. These are affordable gift hampers with world class products included to satisfy not just the baby but as well as particular parents.
What Other Important Factors Should You Consider When Buying Baby Blanket?
To get the right size of blanket for your precious baby, make sure to consider two most important factors; the weight and the height of your baby. Also, make sure that the blanket is wide enough that you can use it for several years. This is to make the most out of your blanket. Now that you know what are the important and crucial factors to consider when buying the best blanket for your baby, make sure to check on the different and high quality gift hampers of The Hamper Emporium now, the team offers all that you need in just one basket!