Teddytime Super Soft Blanket in Baby Pink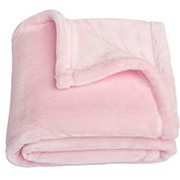 Super soft comfort blanket for newborn baby girls, providing each baby with a good night sleep. Great blanket for any newborn baby, providing a great amount of comfort and keeping them warm when it is a little colder. A gorgeous blanket in baby pink, made from the purest and finest materials to provide the baby with the best possible quality.
A great size for the pram, this blanket from Teddytime is super soft for the new baby girl. 90cm x 70cm Imagine if the weather is quite cold, adults find it hard to sleep during winter and how much more for the babies. This is why choosing the best and the most comfortable blanket there is online is important. Unknown to some, soft cottony blanket is an ideal aid in getting enough rest and sleep. Babies need ample hours of sleep and to enable them to do so, you need to choose soft cottony blanket in high quality. You can check gift hampers for your baby girl direct from The Hamper Emporium, one of the trusted online hamper providers in Australia. Now, the most important question is, does soft blanket really promotes sleep? Let's find out!
How Can Soft Cotton Blanket Promotes Sleep in Babies?
Babies have sensitive skin and when it comes to the regulation of their body heat, babies are not well equipped yet to regulate their own body temperature. This is where soft cottony blankets come in. A cosy blanket like the Teddytime Super Soft Blanket can be used to help babies balance their body temperature. Just like what experts believe, proper sleep is best attained when the temperature is just right. This means it's not too cold and not too hot. The Hamper Emporium has the right type of gift hamper blanket for your baby girl that will aid in her sleeping pattern, the
Snuggles Baby Girl Hamper
and the Snuggles Baby Girl with Moet.
Should Blankets Be Non-Allergic?
Undeniably, there are some babies that come with allergic reactions to different things. Some are allergic to food while others are allergic to certain types of fabric. So if you want to know if blankets should be non-allergic, the answer is a big yes! This is why gift hampers of The Hamper Emporium are usually offered with non-allergic blankets, some are made of organic cotton to be safe! The Snuggles Baby Girl Hamper offers the Teddytime Super Soft Blanket in Baby Pink, aside from being soft; it is 100% non-allergic so you can rest assure that your baby is safe.
Another gift hamper is the Snuggles Baby Girl with Moet. This one offers gift items and treats along with the best tasting champagne of Moet Chandon Brut Imperial. Your baby is not only pampered accordingly, but also you! You get to enjoy the tasty biscuit of Maison Fossier. So why opt for other gift hampers, when this one is already filled with exceptional products and a safe blanket perfect for your baby to get enough rest and sleep!
Are Evenly Weighted Blankets Commendable for Sleeping?
Another important thing to check to ensure your baby gets enough rest is the weight of the blanket. Experts claimed that evenly weighted blankets, those that are evenly spread or distributed are really good for the purpose of proper sleep as well as relaxation. You can rely on gift hampers provided by The Hamper Emporium to deliver quality blankets just like the Teddytime Super Soft Blanket in Baby Pink; your baby will really feel the utmost comfort every time she sleeps. So check for gift hampers at The Hamper Emporium now and let your baby enjoy a quality sleep like never before.