Teddytime Super Soft Blanket in Cream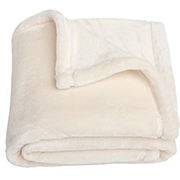 Cream coloured blanket from Teddytime, a great gift for newborn babies that need some comfort at bedtime. Soft baby blanket in a beautiful cream colour, a great gift for a newborn baby or as a Christening gift. Gorgeous blanket for a newborn baby girl or baby boy, machine washable on 30 degrees to ensure the best hygiene.
This gorgeous cream colour blanket is perfect for baby boy or baby girl and is ideal for a bassinet or stroller. 90cm x 70cm Choosing a worthy blanket for your little peanut is a must, and selecting the one that is easy on your baby's skin is recommended. Although there are different baby characteristics, it is undeniable that almost all especially newborns prefer a blanket that will treat their skin in its most gentle way. This is a good thing to develop a good sleeping pattern that most babies need, and to soothe them to fall asleep fast and easy.
Never allow a rough and tough type of blanket to have contact with your baby's skin, it might cause itching and later on ruin the sleeping pattern of your little angel and will keep him or her awake most of the time. There are popular gift hampers online, especially the ones offered by The Hamper Emporium that will keep your baby's skin comforted all the time, thanks to the inclusion of the Teddytime Super Soft Blanket in Cream product.
What Are the Worthy Gift Hampers Offered by The Hamper Emporium for Babies?
The Teddytime Super Soft Blanket in Cream is one of the best baby items one can ever receive. Thankfully, gift hampers of The Hamper Emporium are there to fulfil your wishes. There are two gift hampers currently offering the super soft blanket in cream colour by the most loved baby brand in Australia, the Teddytime. These gift hampers are the Snuggles Baby Hamper and the Snuggles Baby Hamper with Moet. Both hampers are sprinkled with impressive product lines from Maison Fossier to Marquise baby product and more. So if you want to know more about this gift hampers, make sure to take a peek at The Hamper Emporium and find out the great deals the team has to offer.
What Can You Expect from Snuggles Baby Hamper?
Gift hampers are intended to make its recipient happy and feel valued, in other cases it is given to surprise someone. At The Hamper Emporium, gift hampers are given for specific occasions. If you are celebrating Christmas, there are Christmas gift hampers provided by the team. If you are celebrating Valentine's Day, you have tons of gift hamper options too! Of course, when it comes to your baby needs, there are some that stands out like the Snuggles Baby Hamper. You can expect a variety of products included in this hamper and are more focused on the baby. This one has a soft blanket for your little angel to keep him or her warm, there's the adorable Snuggles Bear in Neutral colour to accompany your angel as he or she sleeps and a Marquise singlet to make your baby comfortable. You can also expect a biscuit to be paired with Brown Brothers Chardonnay. As you can imagine, this hamper is quite full yet it is very affordable.
Should You Purchase Snuggles Baby Hamper with Moet?
There are some who considers the birth or the arrival of a new baby in the family as a blessing, and with this they should celebrate abundantly. No wonder some prefers to purchase the Snuggles Baby Hamper with Moet. This hamper features a bottle of Moët & Chandon Brut Imperial NV Champagne in 750ml. This means that partying with friends and family members is possible, thanks to this wonderful treat of this champagne. Yes, you have to purchase this hamper for your baby and for the rest of the family members.