Thank You Co Baby Shampoo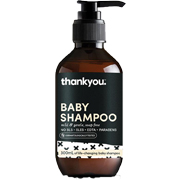 A wonderful and gentle shampoo that will gently cleanse baby's hair without stripping their fragile skin of natural oils. A super gentle shampoo that cleanses without stripping baby's natural skin oils. Beautifully formulated to nourish baby and help social causes. Proudly made by the Thankyou brand, this super gentle shampoo has been specially formulated for baby to cleanse and nourish.
Super gentle shampoo made just for your little one. Cleanses hair while promoting the skin's natural oils. Calming and gentle shampoo for baby that helps with social enterprise and worldwide health initiatives backed by the Thankyou brand. Baby's hair and skin will thank you for the gift of this super gentle cleansing shampoo that's gentle and nourishing for sensitive skin.
---