Gourmet Food Gifts at the Hamper Emporium
Author: Nicole Adler Date Posted:13 April 2016


When you like gift hampers filled with premium gourmet food, you are going to adore our range of unique gift baskets. The Hamper Emporium is Australia's gift hampers specialist, so it is only normal that we have a large range of gourmet gift baskets. Curious what you can obtain from the food gifts on the Hamper Emporium? Find out more about our gift hampers and gift boxes below!
What Gourmet Products Are Used in Hamper Emporium's Gift Hampers?
There are so many different gourmet products in the gift hampers of the Hamper Emporium, it would be impossible to describe them all in great detail here. For that reason, we will go over some of the most prominent gourmet products in our gift hampers range.
When you order gift baskets from the Hamper Emporium, it is very likely you will come across Maison Fossier Biscuit Roses. Maison Fossier is a biscuit manufacturer in Reims, France. The biscuit manufacturer has been around since the 1700s and has been delivering their delicious biscuits to some of the world's most prominent royal families.
In our range of gourmet food gifts, you may also come across some delicious Edinburgh Preserves, which are perfect for a cheese platter. Edinburgh Preserves are made with fresh ingredients and are available as a chutney, marmalade or quince jelly.
Many of the gourmet products in our gift hampers complement cheese perfectly, so these hampers can be the perfect gift for cheese lovers in general. Some additional gourmet products in our range that are perfect for your cheese platter are Partridges Artisan Bakehouse Crackers, Cat Cora's Green Olives and Valley Produce Co. Pear & Hazelnut Fruit Paste.
To discover more gourmet products in our range, please have a look at our online catalogue. There are many delicious goodies to discover, so be sure to grab your hamper so you can enjoy these outstanding treats as well.
Does the Hamper Emporium Have Special Wine Gift Baskets?
There are some extraordinary wines on the Hamper Emporium. From amazing shiraz to a delicate sauvignon blanc with grassy notes, our wine gift baskets have everything a wine lover could want.
The wine hampers on the Hamper Emporium usually contain a variety of gourmet foods as well. If you often experience problems combining wine with the right foods, one of our wine hampers can certainly help you, more specifically by delivering the right wine-food combinations in a hamper.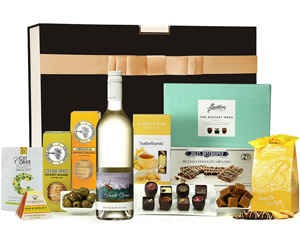 What Gourmet Foods Can I Find in Hamper Emporium's Holiday Baskets?
The Christmas hampers on the Hamper Emporium always contain something special, whether it is a handmade Christmas cake or some chocolate Christmas crackers. The products we use in our Christmas hampers are hand-selected by the Hamper Emporium team, so customers can expect the highest quality from our hampers.
Most Christmas hampers on the Hamper Emporium will also have a Christmas theme, so many gift basket ideas from our team are incorporated when these hampers are created. When you look at our range of Christmas hampers, you will quickly spot the red and festive packaging that is used for the products in these hampers.
All Christmas hampers available on the Hamper Emporium are presented in a luxurious box. The type of box will depend on the items in your hamper. Light items will come in our standard presentation box, while heavier items are presented in a handcrafted, wooden, gift box.
Customers who want a Christmas hamper from the Hamper Emporium should definitely check our hamper catalogue before the start of the holiday season, because our team will add new Christmas hampers before the beginning of the festive season. These new hampers will have some of the finest gourmet products this world has to offer, so obtaining one of our Christmas hampers is going to be a real treat for the recipient you have in mind.
Can I Find Champagne in the Gift Hampers of the Hamper Emporium?
The Hamper Emporium includes a number of champagnes in their gourmet gift hampers, so you can easily find a unique gift for the recipient you have in mind. Our champagne hampers offer the best value for your money, because only the finest champagnes will make it into our hamper range.
Luxurious champagnes included in our hamper range are Moet & Chandon Brut Imperial, Piper-Heidsieck, Bollinger and Veuve Clicquot. The champagne hampers will also contain treats and nibbles that work really well with the champagne in the hamper, so you will not have to worry about your food combinations.



Can I Find Gourmet Foods in Hamper Emporium's Baby Gift Baskets?
Instead of buying fruit baskets for the new parents, one of our baby gift baskets might be a better idea. The baby hampers on the Hamper Emporium contain products that will be loved by the parents and the newborn baby, so customers can combine two gifts into one.
Some of the baby hampers on the Hamper Emporium contain organic baby products, which range from organic toys and baby clothing to organic shampoo. All the organic products in our hampers have not been exposed to harmful chemicals during the production process, so the baby will not be exposed to these chemicals either. Many parents tend to prefer organic baby products over mass-produced baby products, so a baby hamper from the Hamper Emporium can be a great idea.
What Other Hampers Are Available on the Hamper Emporium?
We already mentioned our
gourmet hampers
and baby hampers, but the Hamper Emporium has a lot more hampers to offer. In addition to our gourmet hampers and baby hampers, customers can also find hampers for Mother's Day, Father's Day, birthdays, Christmas, weddings, anniversaries and more.
Each hamper on the Hamper Emporium is eligible for a free standard delivery, which means you do not have to pay extra for the delivery of your gift. Customers also get additional delivery options, more specifically the same-day delivery option, next-day delivery option, express delivery and bulk delivery. Depending on your location and how quickly you need the gift, you can select another delivery option during the checkout process. For more information about the delivery of your hamper, please refer to our delivery page.