Gourmet Gift Basket Ideas at the Hamper Emporium
Author: Nicole Adler Date Posted:15 April 2016


Customers looking for unique gift baskets will not get disappointed on the Hamper Emporium. Instead of average fruit baskets, customers can count on our range of outstanding gourmet gift baskets, containing some of the finest gourmet products in the world! Curious what products you can find in our gift hampers? Be sure to read our detailed information below!

Could You Give Me an Overview of the Gourmet Products in Your Gift Hampers?

There are many gourmet products in our gift hampers that are worth mentioning. Unfortunately, there are so many gourmet products, we cannot describe them all here in great detail. For that reason, we are going to describe some of the best known gourmet food gifts in our range.

One of the outstanding brands in Hamper Emporium's gift hampers is Maison Fossier. Maison Fossier is a biscuit manufacturer, situated in Reims, France. They are mainly known for their Biscuit Roses, which are traditional French biscuits that are dipped in champagne before they are consumed. However, Maison Fossier has more gourmet biscuits in their range, which can also be found in the gift hampers of the Hamper Emporium. A few examples of the Maison Fossier delights in our gift hampers are French palmier pastries and almond macarons.

Another popular brand, which is undoubtedly known by the majority of our customers, is Moet & Chandon. Moet & Chandon Brut Imperial NV Champagne is the favourite champagne of celebrities across the world, but also the preferred champagne of many Australians. When you are looking for the Moet & Chandon Champagne in our range, be sure to look for one of our hampers combining the Moet & Chandon champagne with the Maison Fossier Biscuit Roses.

Last but not least, we would also like to mention Jules Destrooper. Jules Destrooper is a Belgian biscuit brand, best known for their first invention the Belgian butter waffle. In our range of gift hampers, customers can find a range of Jules Destrooper biscuits.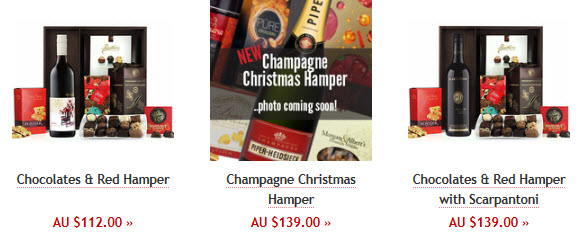 What Can You Tell Me about the Wines in your Gourmet Hampers?

To provide our customers with a great gourmet experience, the Hamper Emporium added some wine gift baskets to their range. Our wine hampers will give you the best value for your money as well, because only the best wines have conquered a spot in our range.

The Hamper Emporium looked for the best wines in Australia, and found them at the Brown Brothers winery. Brown Brothers offers a variety of wines, but has a good eye for quality. The Brown Brothers wine label is mainly known for the handcrafted wines they have been making since 1889, so wine lovers will certainly appreciate a bottle of this quality wine.

A good example of a gift box that contains a good wine and gourmet nibbles is the 'Red Wine & Nibbles Hamper'. The Red Wine & Nibbles Hamper contains one of the most successful wines from the Brown Brothers label – the 2014 Devil's Corner Tasmanian Pinot Noir – as well as a nice selection of nibbles from Partridges Artisan Bakehouse, the Brewer's Nut Company, Gaea and Tasmanian Fruit Pastes. So when you order gift baskets from the Hamper Emporium, be sure to keep an eye out for the Red Wine & Nibbles Hamper.

What Gourmet Products Can I Find in Hamper Emporium's Holiday Gift Baskets?

The holiday gift baskets of the Hamper Emporium are just as good as our finest gourmet hampers, because the products used in these hampers are of the same quality as the products in our finest gourmet gift hampers.

To give you a better idea of what you can expect from our range of Christmas hampers, we need to give you an example. One of our finest Christmas hampers, which contains a nice selection of gourmet products, is the Pure Indulgence Hamper.

The 'Pure Indulgence Hamper' combines some of the best products you can find on the Hamper Emporium. In this quality hamper, you will find Butlers Irish Chocolates, Willie's Cacao, Luken & May, Maison Fossier and Moet & Chandon. Our 'Pure Indulgence Hamper' is best suited for female recipients though, since this Christmas hamper contains some MOR Cosmetics as well.

Naturally, there are dedicated Christmas hampers for both men and women on the Hamper Emporium. So if you need the perfect christmas gift baskets ideas during the holiday season, be sure to have a look at our entire range of festive hampers.

Can I Find Gourmet Treats in Hamper Emporium's Baby Gift Baskets?

To celebrate the arrival of a newborn baby, you will need some baby gifts as well as some delicious gourmet products for the parents. Even though the Hamper Emporium has many gift hampers solely filled with baby items, we also have some combination hampers that will be appreciated by the newborn baby as well as the parents.

A good example of a baby gift hamper, with gourmet products and baby products, is the Sophie & Moet Baby Gift Hamper. The Sophie & Moet Baby Gift Hampers contains a fine bottle of Moet & Chandon Brut Imperial NV Champagne, Maison Fossier French Palmier Pastries, Chocolate Plato by Fardoulis, a Pure Baby Organic Cotton Growsuit, the Marquise Embroided Soft Cotton Singlet, Pure Baby Organic Cotton Mittens and the Sophie La Giraffe Teether.

Why Should I Get Gourmet Hampers Here?

Getting your gourmet hampers from the Hamper Emporium is always a good idea. Not only can you count on premium products and affordable prices, all our hampers are accompanied by a free standard delivery as well.

The Hamper Emporium gift hampers are always presented in a beautiful presentation box, so you will not have to worry about the presentation of your hamper. The presentation box used for your gift hamper is displayed in the product image of the hamper, so please refer to this image to find out what kind of presentation box you can expect.

At the Hamper Emporium, you can send your gift hamper to your recipient as well, which comes in handy when your recipient lives far away or when you do not have to time to drop off the gift yourself.