Gift Basket Ideas at the Hamper Emporium
Author: Nicole Adler Date Posted:13 April 2016


When you need the latest gift hampers and
unique gift baskets
, the Hamper Emporium has you covered. Customers who are currently looking through our range of gift hampers for the perfect gift can stop looking now, since you can find exquisite new gift hampers and amazing gift ideas below!
New Mother's Day Hampers on the Hamper Emporium
Customers who want to pamper their mum this Mother's Day will not be disappointed when they have a look at our unique gift baskets for Mother's Day. Some of the new gift hampers for Mother's Day include the 'Thank You Mum' Mother's Day Hamper, the Velvet Rose & Peony Pamper Hamper and the Today, Tomorrow & Every Day Pamper Hamper.
The gift hampers for Mother's Day contain some of the finest products from around the world. Whether your mum prefers delicate biscuits from France, a nice champagne or a selection of aromatherapy products, our Mother's Day Gift Hampers are always appreciated.

Superior Quality Champagnes for Gourmet Gift Baskets
Some of the best food gifts on the Hamper Emporium include a luxurious bottle of champagne. The champagnes in the Hamper Emporium gift hampers are carefully selected by the Hamper Emporium team; this to guarantee that customers, who order a gift box from our website, always get the quality they pay for.
When you order gift baskets from the Hamper Emporium, you will discover outstanding champagnes such as Moet & Chandon Brut Imperial, Bollinger Special Cuvee, Piper-Heidsieck and Veuve Clicquot Yellow Label NV. In conclusion, the Hamper Emporium has a lot to offer where champagne is concerned.
Excellent Wine & Food Combinations
Whether you choose one of the fruit baskets, wine gift baskets or gourmet food gifts on the Hamper Emporium, customers can always find a good wine in our range. One of the wine labels that can be found quite frequently in our range is Brown Brothers, considering the fact that these wines make the perfect gift for a wine lover.
Brown Brothers wines offer the best value for money, because the award-winning winery has a lot to offer. From a traditional sauvignon blanc to a complex pinot noir, be sure to have a look at the unique gifts waiting for you in our hamper range.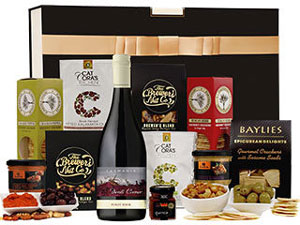 Great Holiday Gift Baskets
The Hamper Emporium is known across Australia for its amazing Christmas hampers. Every year, the Hamper Emporium searches for premium gourmet products and original Christmas gifts. The result of this search is a large selection of Christmas hampers that will be much appreciated by your friend and relatives.
Organic Baby Gift Baskets
The Christmas and gourmet hampers on the Hamper Emporium are not the only hampers that are regularly updated, because our baby gift baskets are top of the line as well. The Hamper Emporium recently transformed their baby hampers into organic gems, because most of the products that can be found in our baby hampers are completely organic.
Organic baby products tend to be a lot safer for the newborn baby and they generally are of better quality as well. A good example of the suitability of organic products can be found in one of the products we offer in our baby hampers – the Sophie La Giraffe Teether.
The Sophie La Giraffe Teether is made from organic rubber and decorated with food grade paint. Given the fact that a teether comes in direct contact with the mouth of the baby, contact with chemicals used in the manufacturing industry should be avoided. With the Sophie La Giraffe Teether, the baby does not come in contact with these harmful chemicals.
When you choose one of the organic baby hampers on the Hamper Emporium, you do not have to worry about harmful chemicals. Choose from a large selection of baby hampers containing organic baby shampoo, organic toys and much more!
Quality Cosmetics by MOR
Many of our gift hampers for her contain a selection of quality cosmetics. The Hamper Emporium spent months looking for the perfect cosmetics supplier, and eventually found the perfect candidate right here in Australia – MOR Cosmetics.
MOR Cosmetics has not been around as long as some of the more established brands such as Lancôme or L'Oréal, but that has not stopped the brand creating some of the best cosmetics in Australia. If you often use rejuvenating and moisturising lotions, the cosmetics in our hampers will certainly appeal to you. In addition to incredible lotions, customers can also find MOR fragrances and accessories in our hamper range, so there is plenty of choice for the modern woman.
Free Delivery for All New Hampers on the Hamper Emporium
If the superior products in our gift hampers are not enough to convince you, we would also like to mention that all the hampers on the Hamper Emporium are accompanied by a free delivery. The size of the hamper you order does not matter, because the Hamper Emporium will always give you a free standard delivery.
There are additional delivery options available as well. These delivery options may vary according to the region you live in. Available delivery options will be displayed during the checkout process, so you can easily select an option that matches your location.
Special Offers on a Regular Basis
The Hamper Emporium likes to pamper customers, so we regularly add some special deals on our website. With our special offers, we provide some of our finest hampers at a reduced price, so it is a good idea to come back to the Hamper Emporium regularly to see if you can take advantage of a special deal.
Outstanding Bulk Offers & Deals
Businesses can advertise their services and strengthen the relationship with their clients with the help of our corporate hampers. If you need several corporate hampers, and need to send them to a variety of clients, you may be eligible for special bulk deals on the Hamper Emporium.
When a business needs more than 25 gift hampers, they can obtain free corporate branding from the Hamper Emporium. We can also offer special deals on shipping, so be sure to contact our team when you intend to take advantage of our corporate hampers and corporate branding.