Gift Hampers Australia – New and Improved!
Author: Nicole Adler Date Posted:8 March 2016


When you need a nice gift hamper, there is only one place to go – the Hamper Emporium. Our company specialises in personalised gift gourmet hampers and even offers customers the opportunity to use corporate branding. If you want to make an event extra special, the gift hampers from the Hamper Emporium will be the perfect addition.

What Products Does the Hamper Emporium Use in Gift Hampers?

The Hamper Emporium always tries to keep their product range up-to-date. In order to have the best gift hampers in Australia, we look for products all across the globe. For that reason, you can find more than just Australian brands in our range.

A good example of the quality products the Hamper Emporium offers in its hampers is Moet & Chandon Champagne. The Moet & Chandon Brut Imperial NV Champagne is one of the best known champagnes in the world and endorsed by big names in the music and movie industry. A bottle of Moet & Chandon can be a luxurious gift, so this is just one of the products you can find in the Hamper Emporium range of gift hampers.

Of course, there are many other products just waiting to be discovered in our latest range of gift hampers. Hamper Emporium has added a lot of new products to the range this year, so customers looking for something new and improved will not be disappointed.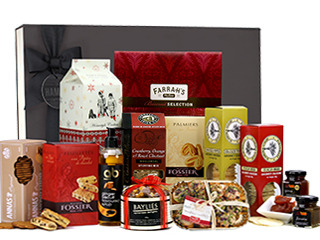 How Do I Find the Perfect Hamper for My Occasion?

The products in our hampers are not the only things that stay relevant on our website, since we aim to provide customers with easy categories so they can easily find the hamper they need. For special occasions during the year, for example Christmas, Valentine's Day, Father's Day and Mother's Day, customers will easily find a dedicated category with our most suitable hampers.

There can be certain occasions that do require some special attention, for example a bachelorette party or a birthday. Fortunately, there are categories where you can easily find a suitable hamper. For example, if you need a special gift for a woman's birthday, we can recommend heading over to our "For Her" range.

Customers who are having trouble finding the right hamper for a special occasion can also count on the experience of our sales team. By creating many gift hampers and knowing the favourites amongst the Australian population, we can easily recommend a gift that will go down well.

Does the Hamper Emporium Still Provide Corporate Hampers?

The Hamper Emporium has been supplying corporate hampers for some of the biggest companies in Australia for many years. Even though we have updated our range of hampers and regularly make some changes to stay up-to-date with demand, the Hamper Emporium still provides the best corporate hampers in the country.

Our corporate hampers can be personalised by individuals as well as businesses; this can be done to advertise your business or to strengthen the relationship with one of your clients. To provide a great amount of personalisation, the Hamper Emporium employs a graphics designer, who is able to provide customers with custom-designed ribbons and business cards.

Large businesses who need a significant amount of hampers will find that the Hamper Emporium is their best choice as well. Not only do we provide the most extensive range of corporate hampers in the country, we also provide special deals for bulk orders. If you intend to send more than twenty-five gift hampers to your business associates, clients or suppliers, the Hamper Emporium will be able to give you a special deal!

For more information about our corporate hampers, or to draw some inspiration for your next corporate christmas hampers purchase, please head over to the corporate hampers range on the Hamper Emporium website.

Can I Also Get Gift Vouchers on the Hamper Emporium?

One of the latest additions to the range of the Hamper Emporium are our gift vouchers. Customers who really do not know what to get for someone can take advantage of these gift vouchers, which are in turn used by the recipient to obtain one of our excellent hampers.

Gift vouchers on the Hamper Emporium are most commonly used by businesses, especially when you consider the fact that these gift vouchers can also be personalised with your company's brand. For more information about our vouchers, please head over to the corporate hampers page.

Are Deliveries Still the Same?

The Hamper Emporium always tries to provide customers with the fastest delivery possible for as little money as possible, no matter where you are in Australia. This has not changed, because the Hamper Emporium still has an incredible amount of delivery options at your disposal.

First of all, every hamper on the Hamper Emporium is accompanied by a free standard delivery. With this option, customers do not have to pay anything for the delivery of the hamper they ordered. Of course, there are additional options available if you want your hamper quicker.
Customers living in Sydney Metro can still receive their hamper on the same day of ordering, providing the order was placed before 1 pm on a business day. There are also additional options available for customers outside Sydney Metro who want a quicker delivery.

Even though there are additional delivery options available, you will notice that even our standard delivery options are a lot quicker than most other gift hamper providers. So do not hesitate to benefit from the free standard delivery option if you can!
Can I Still Count on the Personal Advice of the Hamper Emporium Team?

Our valued customers can still count on the personal advice of the Hamper Emporium team. If you have been looking for the perfect hamper for your recipient, but cannot seem to decide which one would be best for the person you have in mind, our Hamper Emporium team will be more than happy to assist you during your search. Simply contact us with your request and our team will provide you with the best suggestion for your occasion.