What Are the Best Mother's Day Gift Hampers in Brisbane?
Author: Emily McWaters Date Posted:26 April 2019


No-one deserves style like Brisbane mums and when it comes to Brisbane gift hampers for Mother's Day we've got the ideal selection. To help you choose the best gift basket for her special day, we have listed the best choices for Brisbane mums below. So, be sure to read on and discover our Brisbane Mother's Day hampers your mum will adore!
Why Do Brisbane Mums Love Gift Hampers For Mother's Day?
We often have customers ring us to enquire if a Mother's Day Hamper is a suitable choice for their mum, and each and every time we reply with a big yes! Brisbane mums are savvy, clever, amazing, and they deserve the absolute best gifts to celebrate their special day.
Why are gift hampers a best-selling Brisbane Mother's Day Gift? Because they're packed full of world-class gifts that mother's the country over will love. Brisbane mums love hampers because they don't just get a single gift, they get a luxury, custom-designed gift box packed full of luxury items from the world's most beautiful brands.
What Luxury Brands Are Inside Brisbane's Best Selling Gift Hampers?
We've teamed up with the world's best brands to ensure that our Brisbane gift customers receive the most amazing hampers ever! If you're looking for a luxury gift for mums that are worthy of the finest each and every time, then let's take a look at the luxurious brands they'll receive in their gift hampers.
You won't find supermarket brands inside our luxury Brisbane hampers. Our founder has been searching the world over for the past 12 years to source a collection of foods that are made with the finest of ingredients, to create the most delicious flavour-filled treats that keep our customers smiling over and over again.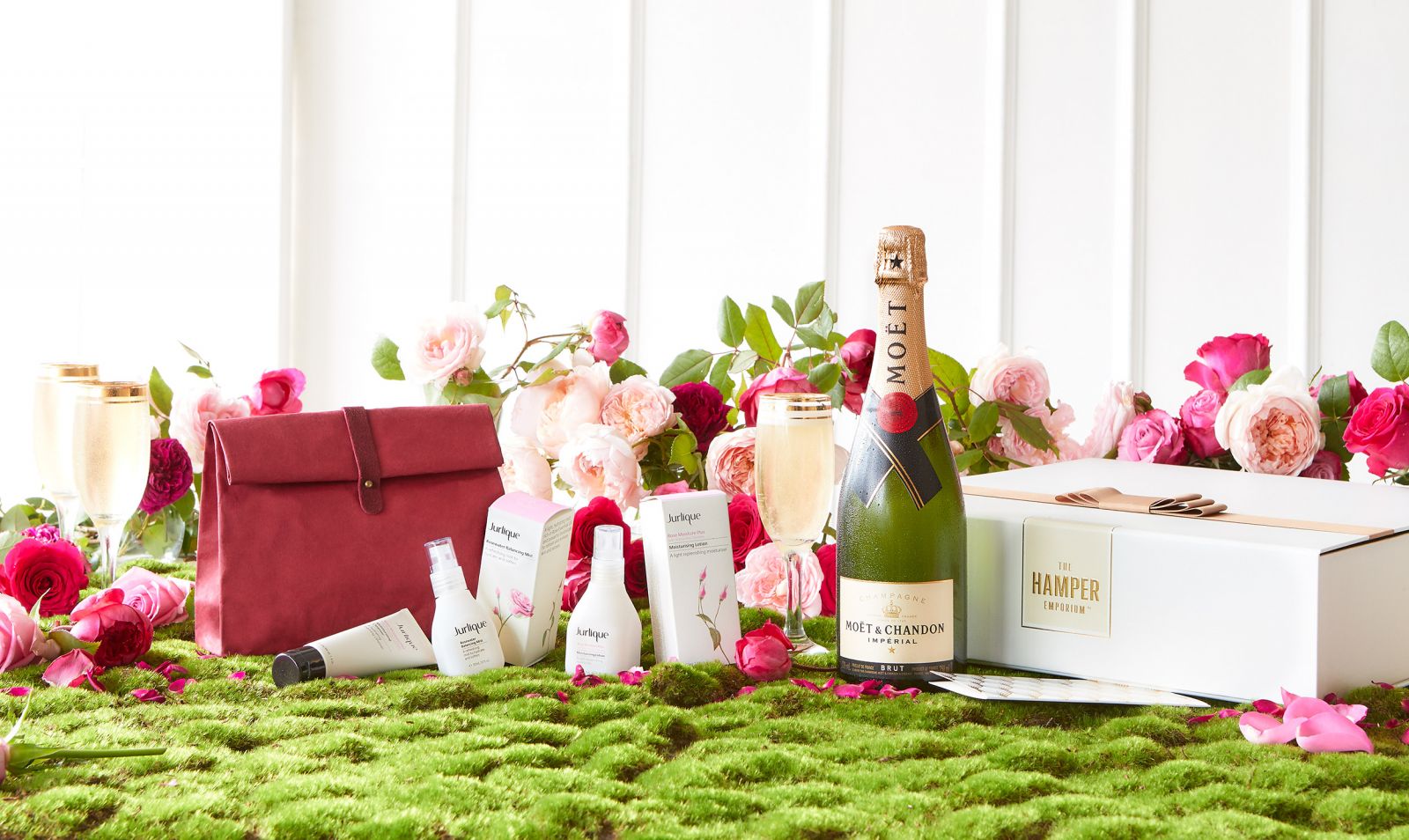 L'Occitane Pamper Hampers That Mums Will Love
When it comes to luxurious skincare for her, nothing beats L'Occitane. This fabulous French skincare brand was founded in 1976 by Olivier Baussan to preserve French traditions of natural, luxurious ingredients that nourished and moisturised the skin, with sweet, perfectly balanced aromas.
Our L'Occitane gift hampers come with a range of luxurious skincare for women that makes the perfect gift for mum this Mother's Day, and some also include a range of eau de toilette perfumes. If your mum deserves to be spoilt, pampered and made to feel like she's the most nourished and deserving woman in the world, then L'Occitane luxury skincare is just the thing to do it.
Brisbane Wine And Champagne Gift Hampers For Mums
Been thinking about what the best gift is for your mum this year? Here at The Hamper Emporium we spend months thinking about what our own mums would love to receive for Mothers Day, and then, once we've figured it out we create just that hamper! We know that if you're looking for the perfect gift for your mum, then she deserves a beautiful gift that's as stunning as we'd gift our own mums.
When it comes to selecting the best wine and champagne for our women's gift hampers, we've spent years finding the best selections that keep our customers smiling again and again. With over 200,000 smiling customers we're experts at sourcing the world's finest Champagne and Australia's best wine.
Our wine selections are chosen based on the ratings of renowned wine expert James Halliday. Many of our wines have ratings of 95+ because our customers deserve only the finest wines, whether it's a rich Shiraz or a fruity white, there's a wine for every mum in our luxury gift hampers for her.