What Are Some Mother's Day Present Ideas From A Daughter?
Author: Emily McWaters Date Posted:26 April 2019


There's nothing quite like the bond between mother and daughter, and with many of our staff being daughters (and mums!) we understand how important it is to pay respect to the world's most loved mum for Mother's Day. If you're looking for Australia's most beautiful Mother's Day gift ideas from daughter to mother, then our range is absolutely spectacular.
The Perfect Gift Basket Daughters Could Give to Mums?
At The Hamper Emporium, you could consider a gift basket that is filled with skincare products, because, as with all our luxury gift products, we've searched the world to bring you only the finest gift options for your loved ones, so for daughters wanting to gift their mum the ultimate in pamper gifts for Mother's Day, we love nothing better than spoiling mums with a selection of L'Occitane skincare.
One of our favourite gift hampers featuring luxury skincare fo mums is our Personalised L'Occitane Hamper, which features a range of luxurious skincare products from L'Occitane along with a gorgeous plush robe and of course a personalised monogrammed leather gift for her too.
French brand L'Occitane is a standard in the field of fragrances and skincare, so it is certainly an outstanding choice for Mother's Day gift baskets. Inside the Personalised L'Occitane Hamper,mum will find a selection of L'Occitane Cherry Blossom skincare, that features the perfect blend of nourishment and fragrance.
Of course, skincare products are not the only gifts you will find in this lovely gift basket, because you can also delight your mum with delicious nibbles from one of our favourite artisan treats from Australian brand Morgan's.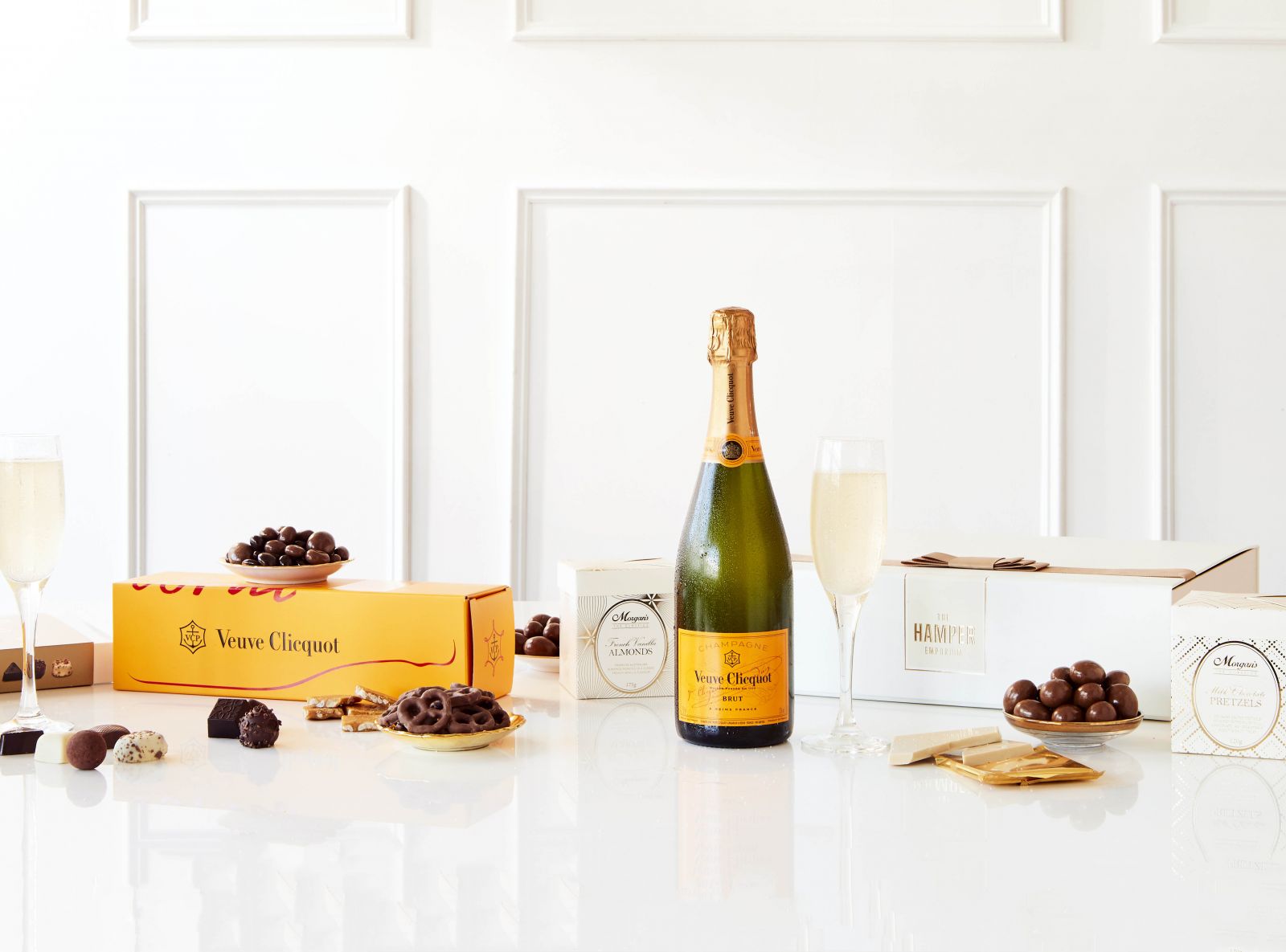 Looking For A Luxury Champagne Hamper For Mother's Day?
This one isn't just a wonderful gift idea for daughters who need the perfect present for their mum, it's a gorgeous all-round hamper that's suitable for oh so many occasions. Our Luxury Chocolate & Veuve Hamper is packed full of chocolates and luxurious gourmet treats, but also a genuine bottle of Veuve Clicquot Yellow Label Champagne.
Veuve Clicquot Yellow Label Champagne is a highly regarded, world-renowned French Champagne that we love delivering to our customers. Bottled with a natural cork that ensures the palate and bouquet of the champagne is maintained, if you're looking for the perfect gift hamper for Mother's Day that's guaranteed to make an impact and stand out from gifts of years gone by (or gifts from siblings), then this is the choice that's perfect for 2019.
Of course what would Mother's Day be without a nice selection of sweet treats! For our Luxury Chocolate & Veuve Hamper, we selected countless chocolates from Ernest Hillier, Butlers Irish Chocolates, and Willie's Cacao. There is white chocolate, milk chocolate, and even dark chocolate, so this chocolate selection will appeal to all chocolate preferences.
Want To Discover More Mother's Day Hampers a Daughter Could Give to Her Mum?
Whether you are looking for a relaxing hamper or delightful chocolates, you are bound to find it at The Hamper Emporium. As Australia's most popular gift hamper companies, we're so proud to be leaders in Australian gifting. What makes us different? We're backed by over a decade of experience in sourcing the best of the best products from world-class suppliers. We also custom design our gift boxes, and are hands on across the entire process with a team of highly experienced staff from our customer service team, right through to our hamper experts.
Do you have a question about any of the Mother's Day hampers we mentioned today? Or could you use more recommendations for your mum's Mother's Day present? Get in touch with The Hamper Emporium team today via telephone, email, or instant messaging.