Mother's Day Presents Ideas - The Best In Australia For 2019
Author: Emily McWaters Date Posted:26 April 2019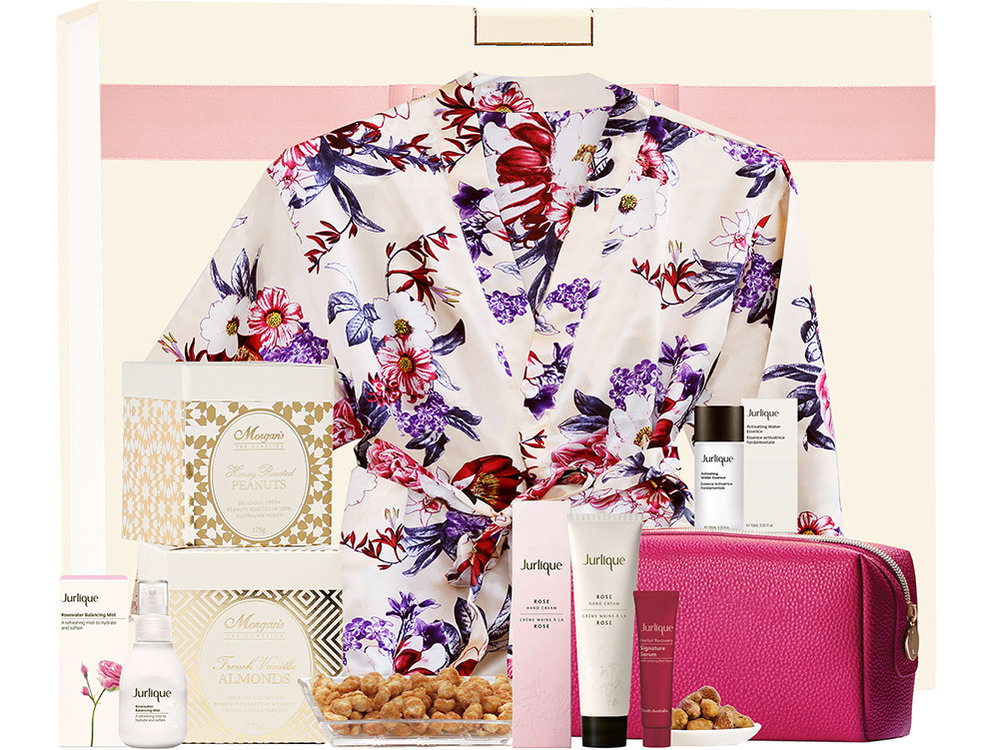 Mother's Day gifts don't need to be difficult to choose, we know Mother's Day comes but once a year, so your chosen gift on this special day should be the perfect representation of your endless gratitude for her unconditional love and support. For gift ideas that are bound to impart a lasting impression, gift givers in the know turn to The Hamper Emporium. With a wide range of expertly sourced, packaged and presented Mother's Day gift baskets and hampers of excellence for all special occasions, Mother's Day surely stands out as a day to impress.
What Are Some Gift Hamper Ideas For Mums In 2019?
Whatever your beloved mum desires, The Hamper Emporium has packaged a range of gourmet food, wine and pamper hampers especially for Mother's Day.
For lovers of fine wine and delicious sweet and savoury nibbles, you can't go past the Mother's Day Moet Rose Imperial Grand Champagne and Gourmet Nibbles Hamper. It's stocked full of vintage pink bubbles, a range of tasty Brewers Nuts, locally made tapenades, Kangaroo Valley kalamata olives and crackers, Most Oro cold-pressed olive oil, artisan semi-dried tomato halves and more. The Jurlique Pamper Hamper with Personalised Leather Keyring, featuring gold, monogrammed engraving, Australian-made skincare and quality sweet treats shows you've put all your love and forethought into this stunning and memorable gift idea.
What Are The Best Hamper Ideas For A New Mum?
Mums of newborns will delight in the 'Guess How Much I Love You' and Champagne Hamper. It's a win-win for bub and mum alike with a range of baby-soft clothing, books and matching plush toy for the tiny tot and Moet and Chandon Brut Imperial Champagne for the grownups to toast their baby joy on Mother's Day.
It's such a special time of life welcoming a new baby into the world. Celebrating with gifts for new mums is such a special thing to do for their first Mother's Day. Choosing something special to pamper her is really important because that first few months of being a mother can be so exhausting that she truly deserves something special to help her relax.
When Should I Organise My Mum's Hamper?
The sooner the better, to ensure availability and smooth delivery of the perfectly selected gift hamper for your beloved mum. It's advisable to order online a fortnight before your anticipated date of arrival. Delivery is location-based, but The Hamper Emporium also provides the added convenience of express or same-day delivery if your desired product is in stock and time is of the essence.
Which Are The Most Popular Hampers?
The Pure Gold Luxury Foodies Hamper, containing an endless assortment of fine wines and delectable sweet and savoury nibbles, is an ever-popular choice at The Hamper Emporium. Other hampers of distinction that win fans of all ages include the Sweet Epicure Hamper, featuring a range of creamy chocolates, sweet nutty treats and other edible delights, which can be delivered promptly to your door. There's also the best-selling Benefit Cosmetics and Seafolly Hamper, which is filled with quality cosmetics from this cult brand and artisan-designed accessories that are made for the sunniest days.
What Are The Best Present Ideas For Grandmas On Mother's Day?
If your grandma loves to treat her visitors with an assortment of quality edibles, she will love the Entertainer Gourmet Hamper, which is brimful of artisan-produced sweet and savoury surprises for all the family. She will also thrill to the L'Occitane Pamper Hamper and an endless range of skincare and fragrance gift ideas.
What Are Some Gift-Wrapping Ideas For Mother's Day?
The Hamper Emporium not only provides an impressive range of quality gourmet food, wine and pamper packs, but also free delivery throughout Australia, personalised gift ribbon and tags, expertly presented gift wrapping and keepsake boxes. You'll be rapt in the professional gift-wrapped style, which will linger long within even after you've opened and enjoyed your abundant surprise packages.