What Are the Best Mother's Day Presents for 2019?
Author: Emily McWaters Date Posted:26 April 2019


As gift-giving experts, we're often asked: "what gift ideas should I include in a Mother's Day hamper?" The Hamper Emporium creates and supplies a comprehensive range of beautiful gift hampers, so it's fair to say we are qualified to answer these burning enquiries. Our number one tip is this: choose items that align with things that mum loves, matches her hobbies, or pampers her with her favourite skincare and aromas.
Naturally, when choosing Mum's Day gift hampers select items that mum likes. If mum loves wine, our wine and champagne gift baskets make an elegant and stylish present. If she has a sweet tooth, chocolate hampers are a safe bet.
The Hamper Emporium takes care of all the mess and fuss for you with our huge range of gorgeous Mother's Day gift boxes.
What Are The Benefits Of Purchasing A Premade Mother's Day Hamper From The Hamper Emporium?
The benefit of ordering a hamper online from The Hamper Emporium is often reflected in the cost. We make thousands of hampers each year, so our purchasing power is mighty. We buy items in large quantities, and we pass on our savings to you.
We take the guesswork out of what to include and even deliver Australia wide for free.
That means mum will receive her Mother's Day gift on her front doorstep, and she'll be so wonderfully surprised and delighted.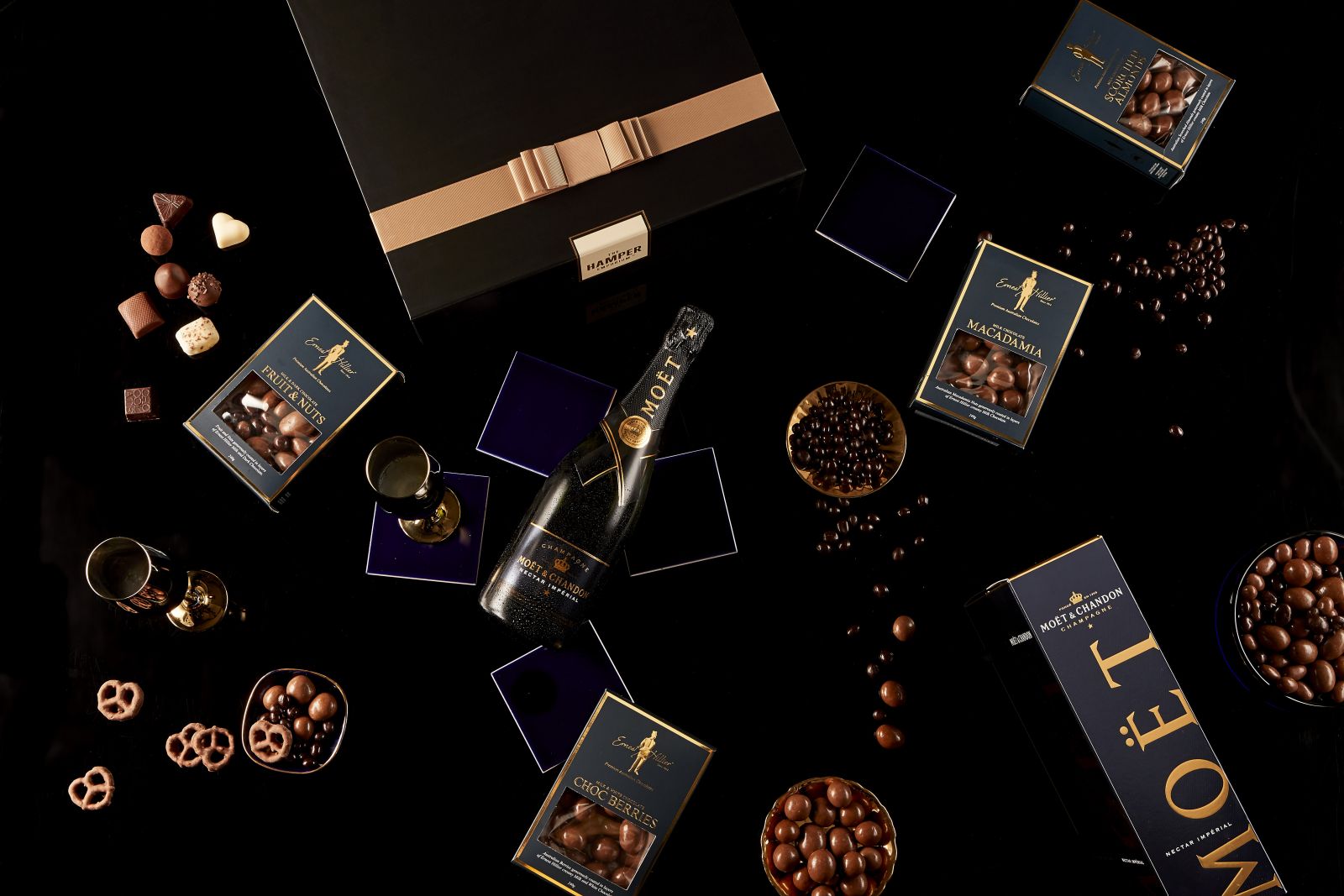 What Are The Best Options For Hampers Containing Chocolate?
We love giving chocolate gifts, especially to mum this Mother's Day. Our chocolate hampers are favourites because let's face it, who doesn't enjoy the tempting taste of milk or dark chocolate?
Imagine the sheer delight on mum's face when she opens our Moet Grand Vintage and Chocolates, a gift of champagne, and chocolate-coated nuts and coffee beans.
For sweet tooth purists, our Sweet Bites Hampers will send a sugary rush of anticipation when mum spies the vast offerings of chocolates, truffles, and dessert sauce.
Are There Options For Mums Who Prefer SavouryTreats?
If your beautiful mother prefers savoury treats, we have hampers with incredible gourmet foods as well. The Entertainer Gourmet Hamper is crafted with foodies in mind. Moreish Brewer's Nuts, semi-dried tomatoes, olives, vegetable tapenade, fruit spread, premium olive oil, and crispy crackers makes the perfect party platter; just add cheese and smallgoods. It's a deliciously perfect gift for gastronomes.
How Can I Make Mum's Hamper More Personal?
We appreciate that you want to make your Mum's Day present as bespoke and personal as possible. Every hamper purchase includes a superior card gift card with your sentiments printed inside.
During the check-out process, type your words into the box provided, and we will include them in your free card.
If you want to make a significant impact and make mum feel extra special, we also offer custom ribbons with a name or logo printed in gold or silver. See our Corporate Gifts category for more information on how you can make your mum's gift stand-out even more.
What Is The Most Popular Mother's Day Hamper In 2019?
We have so many popular hampers at The Hamper Emporium that make a beautiful gift for Mother' Day. Choosing the best one for your mum takes a little insider knowledge.
What does mum enjoy? What does she like to do? What kind of food does she like to eat?
We have a scrumptious selection of gourmet food, fine wine, and chocolate baskets that will spoil mum with appetising pleasures, and pampering gift boxes that will soothe dry skin and offer the feel of her very own day spa.