Antichi Sapori "Oro Tonda" Extra Virgin Olive Oil 500ml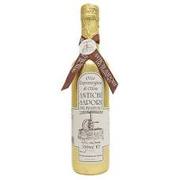 An exquisite virgin olive oil made by Antichi Sapori, perfect to drizzle over your pasta's, soups and grilled vegetables. High-quality virgin olive oil with hints of green olives and pepper. The elegant and well-balanced Italian virgin olive oil from Antichi Sapori.
The delicately fruity aroma and flavour of the Italian Antichi Sapori extra virgin olive oil makes it a must in every kitchen pantry. The use of extra virgin olive oil is widely observed in the Mediterranean region, its benefits and amazing flavour are the main reasons why this is so popular. If you happen to love using extra virgin olive oil into most of your meals, salads, pastas, and even soups then one of the highly commendable extra virgin olive oils to use is the "Oro Tonda" of the Antichi Sapori in 500ml bottle.
Now you can drizzle all your salads and make it more temptingly delicious and more presentable ever. Your love ones will truly enjoy your preparation, and your kids who may not be fans of green leafy vegetables may try your vegetable salad for a change, thanks to the Antichi Sapori "Oro Tonda" Extra Virgin Olive Oil. This product can also be found in most gift hampers of The Hamper Emporium.
What Can You Expect from The "Oro Tonda" Extra Virgin Olive Oil of Antichi Sapori?
When it comes to quality, this olive oil won't disappoint you. This is one of the highest quality oils in the market and offers you an amusing taste of pepper and the charming flavour of green olives. It gives you an Italian flavour that oozes with elegance and delight. In terms of its aroma, this one exudes a tempting fruity aroma that kids and adults will really enjoy. Using this in your kitchen will fill the air with a wonderful aroma that will make everyone at home salivate. Grab gift hampers with the "Oro Tonda" in it, it will really transform your food preparation as if you're a pro!
How Is This Product Made?
Unlike any other olive oils, this one is made in simpler ways yet uses fresh ingredients that will separate it from other extra virgin olive oils in the market. The Antichi Sapori "Oro Tonda" Extra Virgin Olive Oil is simply made by crushing the main ingredient which is the olives. Crushed intensely until it produces juice and then extracted. Yes, this is how simple it is made, in fact it is said to be the only extra virgin olive oil that uses no other chemicals and not even any industrial refining involved. As you can see, this is one of the healthiest out there, so make sure to purchase gift hampers with 'Oro Tonda" in it. You are not only saving money by opting to purchase gift hampers straight from The Hamper Emporium, you are also enhancing the health of your family and love ones!
What Gift Hamper Offers the "Oro Tonda" of the Antichi Sapori?
You can purchase the
International Foodies Hamper
of The Hamper Emporium. This is one of the praiseworthy gift hampers online thanks to its luxurious products in it. For an affordable price, who would have thought this simple gift hamper offers you Rick Stein's biscuits, Le Cordon Bleu product, Elsa's Story crackers, Comtesse du Barry and even Pollastrini products in just one basket. You can expect pantry items too, chocolate, and sweet biscuits to satisfy your kitchen needs. Of course, the Antichi Sapori "Oro Tonda" Extra Virgin Olive Oil is included too. So wait no more, grab as many gift hampers as you want online, just make sure to include the International Foodies Hamper of The Hamper Emporium to take advantage of the healthiest extra virgin olive oil in the market right now.