Random Harvest Chilli Tomato Chutney 60g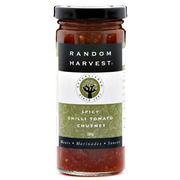 Rich chutney based on fresh tomatoes and chilli, perfect to add a little spice to your meals. Delicious chutney from Random Harvest, contains tomatoes, chilli and garlic. Excellent chutney created with only the freshest ingredients, produced by Random Harvest.
Spice up your meals! This Chutney is rich in tomatoes and generously garnished with chilli and garlic.
Wishing for the most delectable and delightful condiments out there is just normal, this is why Random Harvest produces lots of condiments to supply the needs of those who wants a little spice and flavour in their food. The Chilli Tomato Chutney of the Random Harvest is one of the delicious condiments you can purchase online. Let's admit it, these pleasurable products are really appetising and a good view once placed in your kitchen cupboard.
Make your life fabulously delicious, try the Chilli Tomato Chutney of Random Harvest and you will really fall in love with its taste and hotness. There are gift hampers offering this spicy condiment, you can visit The Hamper Emporium too and check some gift hampers with loads of condiments, you will surely find this Chilli Tomato Chutney in it.
What Can You Expect from The Chilli Tomato Chutney of Random Harvest?
Expectations are hard to avoid, especially if the product you want is advertised as if it's the best in the world. Good thing Random Harvest Chilli Tomato Chutney can certainly live up to people's expectations. As a start, you can expect this product to be filled with fresh tomatoes. Yes, thick tomatoes are added which will leave you with a scrumptious meal plus a touch of spice in it, thanks to its chilli ingredient. You can expect this condiment to be filled with not only thick tomatoes and chilli but as well as garlic, filling your kitchen with a delicious and mouth watering aroma.
If you want something fresh, this condiment will not let you down as it comes with the freshest tomatoes ever and sprinkled with loads of garlic and chilli to spice up your every day eating session with the family. So if you are giving away gifts to people who loves something new, something challenging and something fresh, check out gift hampers of The Hamper Emporium and make certain to grab one with the Random Harvest Chilli Tomato Chutney in 60g pack.
Is This Product for the Faint Hearted?
This product may not be for the faint hearted. Why? The spiciness that exudes in this condiment is truly hot because it has an ample garnish of garlic and chilli. However, you can create your very own gourmet spread for your sandwich and sprinkle just a little of this chutney. You can also use this for your meat and other healthy dishes like vegetables and simply put a pinch of it in it. This way, even if you can't handle the chilli level of this product, you can still enjoy it. Though it may not be for the faint hearted, this condiment can still be used to serve foods for children and adults. So don't worry, you can still give gift hampers with Random Harvest Chilli Tomato Chutney in it. It just depends on how much amount you are going to use in your dishes.
Is This Perfect For BBQ Parties?
This condiment is definitely a great choice for BBQ parties. In fact, this is also considered as one of the best ingredient to use because of its spice. If the male members of the family want some challenge, something that will spice their BBQ party, this is a great condiment to use. Your BBQ will never be the same, so when planning this type of party, order
BBQ gift hampers
from The Hamper Emporium and you will never be disappointed. Your party will surely be enjoyed by all visitors.