Portofino Extra Virgin Olive Oil Riserva 500ml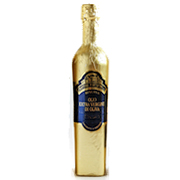 Fruity virgin olive oil that goes well on most salads, can also be used for cooking. Great Portofino extra virgin olive oil that can be used for cooking as well as a dressing for green salads. Extra virgin olive oil with plenty of flavour and a rich fruity aroma, suitable for cooking and as a dressing.
The delicately fruity aroma and flavour of Portofino's cold-pressed, reserve, extra virgin olive oil makes it a must in every kitchen pantry. To be considered under the category of extra virgin olive oil, the product must exhibit exemplary qualities such as being free from any chemical contents and defects, and at the same time exudes fruitiness in it. A chemical test is conducted to check whether or not the product can be considered as extra virgin olive oil or not. Now, the Portofino Extra Virgin Olive Oil Riserva definitely passes this requirement.
In fact, this product is so fruity and comes with an Italian touch that most Aussies find delicious and quite delicate. It is really fruity in taste, and it comes in different packaging. There's the 500ml bottle, the 250ml and the 750ml. This holiday, make sure to check for gift hampers containing this product, and the first place to check is The Hamper Emporium. Here you get to enjoy your extra virgin olive oil and other delicious treats in one basket.
Why Should You Purchase the Portofino Extra Virgin Olive Oil Riserva 500ml?
Extra virgin olive oils definitely have great advantages once used, however not all are healthy. Note that your oil must be cold pressed in order to preserve its amazing benefits, aroma and even its flavour. This is why the Portofino Extra Virgin Olive Oil Riserva is a must have. It is cold pressed and offers you a reserve flavour! This one can be used not only to drizzle your salad but even for cooking purposes. So imagine hitting two birds in one stone, you get to create and experiment your very own salad recipe with the help of your Portofino Riserva, and you also get to cook yummy meals like a chef! So get this super rich and fruity extra olive oil by checking on gift hampers from The Hamper Emporium. Don't hesitate to spend your money for this type of product, it's totally worth the price and you will enjoy it as soon as you open it.
When Can You Use This Product?
Unlike any other extra virgin olive oils, this one can be used for so many things. As a start, you can use this as dressing for your favourite salad, you can mix and match it to whatever type of salad you want especially vegetables. You can also use this for cooking your favourite meal. Make it as a substitute for your ordinary oil. You get to eat healthy and free from any chemicals without spending too much. You can use this product in different occasions too, Christmas, Valentine's Day, Birthdays and even during a BBQ party! Yes, this is how flexible this product is. So hurry now, enjoy the Portofino Extra Virgin Olive Oil Riserva, grab this in 500ml bottle and use it personally or give it to someone special. You can purchase this from The Hamper Emporium, just look for gift hampers that offer this product along with other appetising products in it.
Is This Commendable As Gift for Special Occasions?
Yes, this product can be considered as a wonderful gift for any occasion. Aside from its health benefits and super rich fruity taste and amazing aroma, this one is packed beautifully. So giving this during special occasions as your gift is not a bad idea. It is packaged in a simple yet in a very elegant way. Just one look and your recipient might think this is one expensive gift. So don't miss out in one of the most delicate and delicious extra virgin olive oils out there. Buy gift hampers from The
Hamper Emporium
and make sure to choose the one with the Portofino Extra Virgin Olive Oil Riserva 500ml. There are dozens of gift hampers online; you can even contact The Hamper Emporium team for further assistance on how to take advantage of this product.