Shropshire Cranberry, Orange & Roast Chestnut Stuffing Mix 150g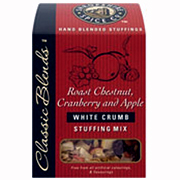 Exquisite stuffing mix from Shropshire Spice Co, perfect for all your Christmas poultry, pork, game and fish. Classic Australian stuffing with hints of cranberry, chestnut and orange. Traditional Christmas stuffing containing cranberries, orange and roasted chestnuts.
Lovely warm flavours of dried cranberries, orange peel, chestnuts, dried onion flakes and mixed herbs. Perfect with pork or poultry. Any occasion wouldn't be complete without the use of stuffing mix on your food. In others parts of the world, stuffing mix is termed or called as dressing. If you want your thanksgiving party, Christmas, Mother's Day and more, make sure to purchase gift hampers with the Shropshire Cranberry, Orange & Roast Chestnut Stuffing Mix. This product is mostly found in gift hampers of The Hamper Emporium.
The use of stuffing mix has lot of benefits and one major advantage is the fact that it helps in food preparation, lessening the time spent in the kitchen and more for your family. It also enhances the tastes of the dish way better than the usual preparation. So let's find out the different gift hampers of The Hamper Emporium offering the Shropshire Cranberry, Orange & Roast Chestnut Stuffing Mix in 150g packaging.
Is Shropshire Cranberry, Orange & Roast Chestnut Stuffing Mix 150g Found in Everything But The Ham Festive Hamper?
Yes, if you need a reliable stuffing mix for your pork or poultry, this product is highly recommended. The Shropshire hamper is just what you need, because aside from the stuffing mix it also comes with pantry items that are made to enhance the flavour of your dish such as the AB Ginger Biscuit Flavoured Syrup, which can also be used as marinade. There's also the Harney & Sons Holiday Tea 5 Silk Tea Pyramids and more products that will keep you wanting for more. No wonder gift hampers of The Hamper Emporium is quite in demand.
Will Festive Cheer Holiday Hamper Satisfy Your Cravings?
If you are aiming to satisfy your cravings for a bunch of sweet nibbles, then this is the perfect hamper for you. Although other gift hampers are also filled with yummy nibbles, this one does not just offer nibbles and gourmet products but as well as Wine & Champagne, Pantry items, and more savoury delights. If you are looking for gift hampers to give away this upcoming Christmas, you can also consider this hamper thanks to its Shropshire Cranberry, Orange & Roast Chestnut Stuffing Mix in 150g.
Does a Sparkling Christmas Hamper Includes Stuffing Mix product?
Stuffing mix product is perfect to use during Christmas, you can apply this on your meat preparations. This is why The Hamper Emporium prefers to include the Shropshire Stuffing Mix in most of its Christmas gift hampers, especially A Sparkling Christmas Hamper for a low price. Buying this online, gives you a chance to enjoy Tasmanian Fruit Pastes, Hazelnut Valley Crisps, Partridges Artisan Bakehouse, Maison Fossier products, Brown Brothers Chardonnay and many more.
Is Gourmet Treats Festive Hamper Worth Buying?
If you are wondering what gift hampers online are worth buying, the first that should come to your mind is the Gourmet Treats Festive Hamper. Unlike other gift hampers, this one is filled with tasty treats that can make your salivate! So why opt for other gift hampers, when this one is readily available from The Hamper Emporium with an added bonus of the yummy Shropshire Stuffing Mix.