Baylies Epicurean Delights Plain Lavash 150g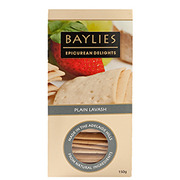 The perfect Australian crackers for entertaining, because they can be served with a variety of dips and cheese platters. A delightful cracker low in salt but with plenty of flavour, which goes extremely well with a nice cheese platter. Traditional Australian crackers with a low sodium content, perfect for people minding their salt intake.
Traditional southern European crisp cracker that is low in salt & naturally flavoured. Great for entertaining with a cheese platter. The perfect partner for any dips, sweet or savoury platters. Plain lavash from Baylies is versatile and delicious.
Baylies Epicurean Delights Plain Lavash
Baylies products are very irresistible. Their tastes are indulging that try one will make you crave for more. In fact, Baylies has been recognized as one of the best producers of gourmet delight treats that even individuals from other parts of the world want to grab their products and find out how delicious they are. The Hamper Emporium values the popularity of Baylies products that in all of its Gift Hampers, Baylies treat are found inside. So for this Christmas, share these amazing Gift Hampers available in the Hamper Emporium with the enticing Baylies specials like the Baylies Epicurean Delights Plain Lavash.
Are You Looking For Gift Hampers For Your Officemates?
If you want to treat your officemates this Christmas, then there's no other way to surprise them but to give them the Premium Office Share Gift Basket found in the Hamper Emporiums popular selection.
Premium Office Share Gift Hampers
are one of the best-selling hampers in the Emporium. Your officemates will surely be overjoyed with delicious and exciting treats such as the savoury treats of Random Harvest, Le Cordon Bleu, Partridges Artisan, Morgan & Albert's and Valley Produce Co. Other flavourful treats found inside these Gift Hampers are sweets and pastries from Maison Fossier, Anna's Original and Great Temptations special cupcakes. The group will surely love these hampers because with them are the mouth-watering chocolates from Willie's Cacao and bottles of champagne and wine from Bollinger and Scarpantoni. Found also in these gift hampers are the Baylies Epicurean Delights Plain Lavash.
What Are The Types Of United Nations Of Beer Hampers?
The Hamper Emporium has a unique collection of hampers known as the United Nations of Beer Hampers. The collection has several options like the Premium United Nations of Beer Hampers and the United Nations of Beer Hampers. Both contains almost similar tasty treats however, the Premium hampers contain more pastries and savoury treats. What's amazing with these gift hampers is that the Beers found inside came from different countries such as Italy, Germany, France, Netherlands and Belgium – no wonder why it was called the United Nations of Beers. Aside from the Baylies Plain Lavash found in these hampers they are also filled with treats from Morgan & Alberts, Cat Cora's and Random Harvest.
What Other Gift Hampers That Are Available In The Hamper Emporium?
Apart from those already described above, the Hamper Emporium has still a lot of Gift Hampers to offer you. Like the James Squire Ale hamper, that contains different flavours of the James Squire Beers and other mouth-watering gourmets from Thomas Chipman and Jacks. There is also the Microbreweries of Australia Gift Hamper which presents varieties of Beers that are purely made in Australia. Other Gift Hampers found in the Emporium are the Beers of Australia Hampers and the Anzac Cider Gift hampers. All of them come with tasty treats from famous producers like the Baylies Epicurean Delights Plain Lavash.
Already Have Plans To Give These Hampers As Christmas Surprises?
Simply visit the Hamper Emporium and pick the gift hampers you wanted. These hampers are very elegant that you will not regret giving it as your gifts. So while you still have so much time, browse the items found in the Emporium and you might avail the discounts that they will give and even make your delivery free of charge. Partner dips, sweet or savoury with these delicious baked lavash breads from Baylies.