Baylies Epicurean Delights Rosemary Lavash 150g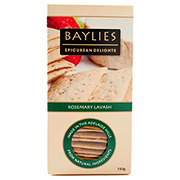 Outstanding crisp cracker made by Baylies Epicurean Delights in the Adelaide Hills of Australia. Great cracker made with butter and flavoured with pure salt and rosemary. Aromatic cracker made with fresh ingredients from the Adelaide Hills.
Traditional southern european crisp cracker hand made in the Adelaide Hills with Australian EVOO, butter, sea salt flavoured & rosemary. Rosemary Lavash from Baylies the experts in creating beautiful baked treats and delights.
Baylies Epicurean Delights Rosemary Lavash
Everybody loves Baylies Products. As a matter of fact, the gourmet products made Baylies make every food preparation complete and more delightful. Baylies produce the most delicious shortbread, seasonal cakes, conserves and biscuits. It also makes the best confectioneries, tarts and lavash. As for its lavash, Baylies has three different varieties such as the plain, the pepper lavash and the rosemary lavash. The Hamper Emporium recognizes the demand for Baylies Products, thus, most of its gift hampers have each of these tasty gourmets like the Baylies Epicurean Delights Rosemary Lavash.
Why Is The Baylies Epicurean Delights Rosemary Lavash Very Delicious?
The Baylies Epicurean Delights Rosemary Lavash is very delicious because it is made by the finest and skillful producers who dedicated their efforts just to attain the perfect taste of this product. The Rosemary lavash is just made of simple ingredients like wheat flour, olive oil, water, sea salt, butter that makes it yummy and rosemary that adds flavour to it. Despite having simple ingredients, this rosemary lavash will make you ask for another bite.
Is The Baylies Epicurean Delights Rosemary Lavash Healthy?
It is guaranteed that this gourmet is healthy considering the fact that it is just made from simple ingredients. Another thing is that, the rosemary lavash has no artificial flavour and no preservatives. Also, its salt content is very low for it was carefully measured just enough to make its taste appealing to everyone.
In What Gift Hampers Can I Found The Baylies Epicurean Delights Rosemary Lavash?
The Baylies Rosemary Lavash is included in so many gift hampers available in the Hamper Emporium. One perfect example of these gift hampers are the Premium BBQ Australia Gift Hampers.
What Makes The Premium Bbq Australia Gift Hampers Amazing?
The
Premium BBQ Australia Gift Hampers
are amazing because it is filled with the most popular and highly recommended savoury and sweet treats. Found also inside these hampers are bottles of wine, pantry products and gifts or accessories depending on what you want.
What Popular Products Are Found Inside These Gift Hampers?
The savoury treats found in the hampers are Morgan & Alberts Premium Products (peanuts & pistachios), the famous potato chips from Thomas Chipman, delicious goods from Random Harvest (Mustard & Spicy Chili Tomato Chutney) and treats from Valley Seed Crisps. These Gift Hampers also comes with pantry products from NoMU (BBQ Spice Rub, Steak & BBQ Grinder, Lamb Rub) and bottles of 2012 Pepperjack Shiraz by Saltram of the Barossa. Gifts or accessories from Random Harvest and greeting cards are also filled inside the hampers to make them adorable presents for Christmas.
Want To Know More About The Baylies Epicurean Delights Rosemary Lavash And The Premium Bbq Australia Gift Hampers?
If you want to know more about them, you can easily access the Hamper Emporium online. There you will also know how affordable the gift hampers are and you can also find there other hampers that you can share this holiday season. The Hamper Emporium site is very easy to explore and very convenient because of its accurate and clear categories. A savoury delight that always impresses, the Rosemary Lavash from Baylies will add a touch of flavour.