Comtesse du Barry Terrine De Champagne Aux Noisettes 70g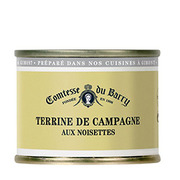 Gorgeous French terrine with hazelnut, preferably served with a chardonnay to bring the flavour out even more. A delightful French terrine from Comtesse Du Barry that can be used as an appetiser or starter. Traditional French terrine with hints of hazelnut and pork from Gimont, France that is perfect to serve with appetizers.
A French country Terrine made with Hazelnuts & Pork that is perfect as a flavoursome first course. Made in Gimont, France. The perfect addition to every Christmas Hamper, including the finest ingredients and greatest flavours.
Comtesse du Barry Terrine de Campagne Aux Noisette
The tradition of giving gift hampers every Christmas is very special in Australia. It is a European tradition which influenced the land down under, including most parts of the world. According to history, folks would usually visit their relatives in other places and they would bring with them hampers that are filled with the most delicious and finest quality treats coming from their own place. This practice is one of the best ways of showing the true essence of Christmas, and that is to share your blessings and happiness.
The Hamper Emporium, Australia's finest provider of gift hampers gives so much importance to this timeless tradition. It made it more special by producing elegant and adorable gift hampers that are filled with the best savoury, and sweet treats made by popular brands not just from Australia, but also from various places around the world.
An example of these best treats is the products made by Comtesse du Barry from Paris which can turn simple food preparations into something more tasty and delightful. The Terrine de Campagne Aux Noisette is one of the in-demand items of Comtesse du Barry. Below are the reasons why people love the taste of Comtesse du Barry Terrine de Campagne Aux Noisette, and in what gift hampers can you find it.
Why Comtesse Du Barry Terrine De Campagne Aux Noisette Tastes So Great?
The Terrine de Campagne Aux Noisette tastes so great it's because it is made with only the best ingredients. Aside from its basic ingredients of pork, liver, egg, salt, porcine gelatin, sugar and pepper, it has an added taste of hazelnut which made it more flavourful. Not only that, no artificial flavours or preservatives were added to it which makes it nutritious and perfect for all ages. This amazing terrine will surely bring life to your first course meals, and once you tasted it, you will yearn for more.
What Are The Gift Hampers That Contain The Comtesse Du Barry Terrine De Campagne Aux Noisette?
The Hamper Emporium presents these amazing gift hampers – the
Classic Port Hamper
, the Best of all Gourmet Gift Hampers, the Glenlivet Founder's Reserve Gift Hampers and the Glenmorangie Scotch Whisky hampers. All these gift hampers are filled with delightful and flavourful treats including the Comtesse du Barry Terrine De Campagne Aux Noisette.
What Do The Classic Port Gift Hampers Contain Aside From The Comtesse Du Barry Terrine?
The Classic Port gift hampers are filled with the savoury goodies made by Le Cordon Bleu, Valley Seed Crisps and Baylies with biscuits and chocolates from Maison Fossier, Jules Destrooper, Morgan & Albert's and Butler's handmade chocolates. Found inside the classic port gift hampers are the wine made perfect by Penfold's Father.
What About The Best Of All Gourmet Gift Hampers?
The best of all gourmet gift hampers are among the most selected items in the Hamper Emporium. These gift hampers are loaded with the famous treats from Maison Fossier, Rick Stein's, Le Cordon Bleu, Baylies and Comtesse du Barry. Scarpantoni wine and Tarfuri Mora Salsa are also included in these gift hampers.
Are All Of These Available In The Hamper Emporium?
Absolutely! All of these wonderful and full of surprises Christmas gift hampers are all available for you in the Hamper Emporium. For this holiday season, show how much you care for your friends, family, relatives and love ones with the gift hampers from the Emporium and you will be amazed with how they will appreciate your thoughtfulness. The ultimate addition to the Christmas Table and one of our favourite inclusions in our hampers.
---