Comtesse du Barry Terrine De Gascogne 70g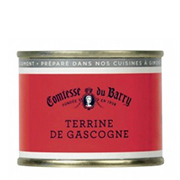 Elegant pork dish made with carrot, salt, parsley and garlic. Delicious French pork usually served as an appetiser or simply as a snack. Classic French pork, often consumed with a rich relish or on a nice slice of country bread.
Drawn from tradition this Pork terrine is perfect as a flavoursome first course. Made in Gimont, France. An important and delicious French delight featuring pork and deliciously rich flavours.
Comtesse du Barry Terrine de Gascogne
For hundreds of years, Comtesse du Barry products became an important part of every dish or canapé being served in special or ordinary occasions. These products are very essential in making simple slices of flavoursome bread and they can even turn your entree more delicious. Comtesse du Barry products will certainly transform and add flavour to all tuckers that you love to prepare especially during Christmas.
Comtesse du Barry has produced so many flavourful goodies and one of them that has certainly captured the taste of a lot of people is the Comtesse du Barry Terrine de Gascogne. This delicious product is made of the best French pork and sated with the finest ingredients such as parsley, sugar, pepper, salt, porcine gelatin, egg, carrot and a lot more. The amazing taste of the Comtesse du Barry Terrine de Gascogne has already enticed most parts of the world, including Australia where it continues to indulge people like you.
This holiday season, share the amazing taste of the Comtesse du Barry Terrine de Gascogne with the gift hampers offered by the Hamper Emporium. The Gift Hampers found in the Hamper Emporium are the finest for they are filled with mouth-watering savoury treats, sweets or chocolates. Below are some frequently asked questions about the gift hampers that come with the tasteful Comtesse du Barry Terrine de Gascogne.
What's The Best Gift Hamper That Have Comtesse Du Barry Terrine De Gascogne?
One of the best gift hampers in the catalogue of the Hamper Emporium is the Best of All Christmas Hamper. This gift hamper is loaded with delicious savoury & sweet treats, biscuits and chocolates that are perfect for the holiday celebration.
Aside From The Comtesse Du Barry Terrine De Gascogne, What Other Products Are Found Inside The Hamper?
The best of all Christmas hamper, just like any other gift hampers in the Hamper Emporium, are filled with savoury treats from Valley Seed Crisps; Sweets & Biscuits from Maison Fossier, Baylies and Belgian Butters; chocolates from the popular Willie's Cacao and Butlers. Also filled in the hamper is a bottle of wine from Scarpantoni.
What Other Gift Hampers That Come With The Comtesse Du Barry Terrine De Gascogne?
There are so many gift hampers in the Hamper Emporium that contain Comtesse du Barry products and one of them is the International Foodies Hamper.
What Does The International Foodies Hamper Have?
The international foodies' gift hampers are packed with the famous and delightful savoury treats made by Pollastrini Sardines, Le Cordon Bleu, Rick Stein's and Elsa's story. They also have biscuits and sweets from Maison Fossier and Jules Destrooper with the indulging chocolates from Willie's Cacao. Also found inside these gift hampers are pantry products from Tartufi Morra and Antichi Sapori from Italy.
What's Great With The Hamper Emporium?
This Christmas, share happiness and prosperity to your mates and love ones with the gift hampers from the Hamper Emporium. Just open its online webpage and be thrilled with its massive collection of gift hampers that are appropriate for any occasion. It also offers discounts and surprises to all its valued clients and you should not miss these exciting incentives. Visit the Hamper Emporium now and order the gift hampers you will like while they are still available.
Delicious French delight made with pork with delicious flavour tones of carrot, parsley and garlic.