Gaea Smoked Aubergine Dip 100g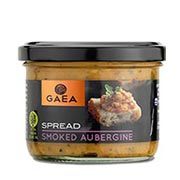 A truly delicious smoked aubergine flavoured dip that's perfect to dip crackers and vegetables. A smokey Mediterranean dip featuring earthy eggplant flavours; perfect for crackers & vegetables. A smokey aubergine-flavoured dip with a classic Mediterranean influence.
A classic Mediterranean dip, with earthy smoked eggplant flavour, that can be used as a dip with crackers or vegetables.
Flavour-filled with early aromas and classic Mediterranean ingredients for the most delicious results.
Earthly flavour that will soothe your taste buds, this is what the Gaea Smoked Aubergine Dip has to offer you. No wonder most gift hampers online are filled with this dip, to delivery world class dip that will match any types of crackers and even your favourite vegetables. It is described to have a Mediterranean touch, smokey and very yummy. Its aubergine flavour is oozing with a hint of classic Mediterranean taste. So why choose other gift hampers when The Hamper Emporium has the Gaea Smoked Aubergine Dip to offer you in lots of its gift hampers. So let's find out what are some of the gift hampers offered online that are affordable and highly commendable.

What Can You Expect from Red Wine & Nibbles Hamper?

Undeniably, a delicious basket of goodies is hard to resist and this is what The Hamper Emporium offers. Its gift hampers are filled with enjoyable products that will fulfil what your taste buds are longing for. Just like the Red Wine & Nibbles Hamper, this basket is overflowing with appetising products like the mouth watering olives of Cat Cora's sprinkled with lemon, garlic, oil, coriander and basil. There's also the Baylies Gourmet Crackers which are handmade to deliver an amazing gourmet. There's the Partridges Artisan Bakehouse too which is flavoured to tease your senses. There's the Brewer's Nut Company, Tasmanian Fruit Pastes and the Gaea Smoked Aubergine Dip. Not to forget the Pinot Noir of Devils Corner. This is one of the worthy gift hampers you need to spend your money during holidays.

What Are Included in the Deluxe Office Share Xmas Basket?

Share a merry Christmas with friends and love ones with this premium gift hamper for a reasonable price. Unlike other gift hampers online, this one comes with so many delectable items that will surely satisfy not only your wants but as well as others. Thanks to its Le Cordon Bleu olive spread, and the sesame seeds of Baylies, more savoury lovers are purchasing this hamper. The gourmet products of Partridges Artisan Bakehouse are also present therefore giving the basket an entirely new touch. The Gaea Smoked Aubergine Dip is also included and more products that brings delight and happiness. There are also lots of sweet biscuits included, wine & champagne and a bunch of chocolates which will satisfy your sweet tooth.

Will MicroBreweries of Australia Hamper Be Enough As Christmas Present?

The celebration is Christmas is usually taken into another level. This is why you need to think about the right gift for your special someone. Good thing there are gift hampers online, offered to cater your giftable needs as well as your budget. The MicroBreweries of Australia Hamper is one of the most affordable gift hampers there is, which is filled with good amount of beers & ciders, and some savoury items. It also comes with the Gaea Smoked Aubergine Dip packed in 100g bottle and other tasty treats you can consume while celebrating Christmas. So if you are wondering if this hamper can satisfy your Christmas celebration, the answer is a big yes.
Smokey mediterranean dip that's guaranteed to impress no matter who they're entertaining.