Gaea Sweet Red Pepper & Goats Cheese Dip 100g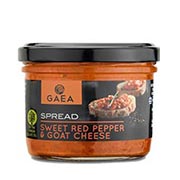 A perfect dip for your next dinner party, made with sweet red pepper and goat cheese. Delight in Mizithtra goats cheese, perfectly blended with roasted peppers and extra virgin olive oil for a flavour-filled dip. This spread is made from a mix of sweet red peppers and goat cheese.
All natural ingredients of flame roasted peppers, Mizithra goats cheese & extra virgin olive oil, make an exceptional dip for entertaining.
Get Some Greek Flavour With Gaea Sweet Red Pepper & Goats Cheese Dip!
Greece is a country known for rich and extraordinary flavours. For that reason, Hamper Emporium regularly adds a nice Greek treat to the selection of gift hampers. One of the Greek treats definitely worth trying is the Sweet Red Pepper & Goats Cheese Dip from Gaea.
Can You Tell Me More About Gaea?
Gaea is one of the leading exporters and manufacturers of Greek gourmet products. Their product range includes olives, condiments, vinegar's, dressings and more. Hamper Emporium really loved the Gaea dips, so we have added quite a few of them to our range of gift hampers.
Where Can I Find The Gaea Sweet Red Pepper & Goats Cheese Dip?
The Gaea Sweet Red Pepper & Goats Cheese Dip has been added to a number of our gift hampers. However, if you are looking for a real Greek gourmet experience, we can recommend going for one of our
Red Wine & Nibbles Gift Hampers
.
Our Red Wine & Nibbles Hamper is the perfect combination of Greek gourmet products and Australian classics. It is the perfect gift for gourmet lovers and people who enjoy Mediterranean flavours.
Inside our Red Wine & Nibbles Gift Hampers you can find two dips from the Gaea brand, more specifically the Gaea Smoked Aubergine Dip and the Gaea Sweet Red Pepper & Goats Cheese Dip.
The Red Wine & Nibbles Hamper also contains other Greek products, including Cat Cora's Organic Green Olives with Basil & Lemon and Cat Cora's Sun Ripened Kalamata Olives. We also added some gourmet crackers from Partridges Artisan Bakehouse and Baylies, so you can immediately enjoy your favourite cheese platter or try one of the dips.
To complete your gourmet experience, Hamper Emporium also added some Australian products to the Red Wine & Nibbles Hamper. In addition to lovely Greek treats, recipients will also be able to enjoy Brewer's Nut Co. Nuts, Tasmanian Fruit Paste and an outstanding bottle of Devil's Corner Pinot Noir.
As you may know, Devil's Corner is a wine label from famous Australian wine house Brown Brothers. The 2014 Devil's Corner Tasmanian Pinot Noir has become one of the most popular wines to come from this wine house, so this hamper is really worth trying.
Interested in obtaining more wine from Brown Brothers? No need to worry, Hamper Emporium has an amazing range of gift hampers with Brown Brothers wines. In addition to the popular wine releases from Brown Brothers, you will also find exclusive cellar door releases. These cellar door releases are only available for purchase at the cellar door of the Brown Brothers wine house, so they make a great gift for wine lovers!
How to Use the Gaea Sweet Red Pepper & Goats Cheese Dip?
Gaea Sweet Red Pepper & Goats Cheese Dip can be used as a spread on a nice piece of toast, or it can be added to your favourite cheese platter. Gaea dip can also be served on a hot piece of bread or can be used as a dip for your favourite crackers.
---