Gaea Sweet Sundried Tomato Tapenade 100g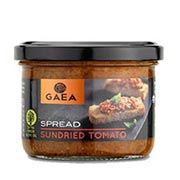 It's irresistably tasty, and absolutely full of flavour whether used as a spread or a dip it doesn't fail to impress. Make an impression of the most delicious type with this gorgeous spread that's also great for dipping. A gorgeous spread made from delicious sun ripened tomatoes.
Made from the goodness of sun ripened tomatoes, this rich and slightly sweet tapenade is perfect to dip or spread. For the best dip of the table, look no further, with Gaea Sweet Sundried Tomato Tapenade, your search is over. This tomato tapenade tastes rich and sweet, it is composed of ripened tomatoes, said to be salted and ripened evenly to deliver a distinct taste. This is dried thoroughly to make as one of the best in terms of sandwich spread or even wraps. Having this product in almost all your gift hampers is really a must, gift recipients who love to munch on sandwiches and other types of bread will fall in love with your gift hamper.
Is There Gaea Sweet Sundried Tomato Tapenade Included in the United Nations of Beer Hamper?
Not only beer lovers will enjoy this hamper but as well as those who are into bread, nice toppings, wraps, and sandwiches. No wonder The United Nations of Beer Hamper is highly in demand during holidays, it comes with great pairs of beers and nibbles for a low price. This hamper offers custom made beer crate made in wooden material. You can drink beers and ciders coming from different parts of the world namely the Grosch Premium Lager, Becks Lager, Peroni Nastro Azzurro, Kronenbourg, and lastly is the Stella Artois Lager.
All these can be paired with delectable savoury products such as Green Olives with Basil & Lemon flavour from Cat Cora's, nibbles and peanuts from Morgan & Albert's, crispy crackers by the famous Baylies, potato chips of Native Australian Chip Company and above all, the sweet Gaea of Sundried Tomato Tapenade which can be your delicious dip while having the best beers for the night.
Is the Deluxe Office Share Xmas Basket a Premium Gift for Christmas?
Yes, this hamper is one of the most premium gift hampers you can purchase online. It may be priced a little high however the products included are premium which are worth your money. Put a smile on your recipients' face, make sure to grab this hamper as your give away present this Christmas. It is filled with the sweet and delicious Gaea Sundried Tomato Tapenade and Smoked Aubergine Dip. There are Tasmanian Fruit Pastes included too with the flavours of Quince and Fig & Walnut. There are more savoury items ranging from Le Cordon Bleu, Partridges Artisan Bakehouse, Baylies, Valley Seed Crisps, and the Brewer's Nut Co.
When it comes to biscuits, you won't regret purchasing this hamper as it comes with the finest biscuits you can purchase online such as the Maison Fossier pastries and macarons, Baylies Epicurean Delights cake and pudding, almond and ginger thins of Anna's, Belgian Butter biscuits and waffles, and many more. This is considered premium gift hamper because of its inclusion which features wine & champagnes as well as chocolates. So hurry now, grab gift hampers such as this online and you will certainly overflow the heart of your recipient with happiness.
Are There More Gift Hamper Options You Can Purchase Online with Gaea Sweet Sundried Tomato Tapenade?
Looking for gift hampers that can satisfy your gift recipient can be tiresome; most gift hampers are filled with ordinary products unlike the ones offered by The Hamper Emporium. If you need tomato tapenades, you can rely on The Hamper Emporium to provide you world class gift hampers filled with extraordinary products. Some of the highly recommended gift hampers you can grab are the ANZAC Ciders Hamper, Beers of Australia Hamper, James Squire Ale Hamper, MicroBreweries of Australia Hamper, Premium Office Share Gift Basket, and the Premium United Nations of Beer Hamper. Your search is over; just check The Hamper Emporium first before any other hamper provider online. Use as a dip or a spread, either way it's absolutely delicious and they won't be able to resist.