Jack's Black Label Beef Jerky 50g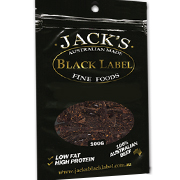 Strips of beef mixed with fresh spices and air-dried in the drying room of Jack's Black Label. Exquisite beef jerky made by Jack's Black Label, available on the Australian market in a variety of popular flavours. Real Australian beef jerky available in six flavours, including safari, barbecue, chilli, piri piri, maple and garlic.
Made with 100% Australia Beef, this delicious jerky is full of flavour and just waiting to be savoured.
The ultimate treat for jerky lovers, made from 100% Australian beef for a delicious treat.
Jack's Black Label Beef Jerky

Made from the finest quality of beef in Australia, Jack's Black label beef jerky will certainly satisfy your appetite. A small bite of its beef jerky will make you crave for more and more that you can resist its delightful taste. Jack's Black label Beef Jerky has a lot of flavours you can choose such as the Safari, BBQ, Piri Piri, Chilli, Maple and Garlic flavours. Jack's Black Label products are made of 100% beef that were delicately prepared with the best ingredients and spices to attain its perfect and satisfying taste.

Most people accompany their favourite dishes with Jack's Black Label Beef Jerky to make it more appealing. Because this brand name has been a part of every Australian home for so many years, the Hamper Emporium ensures that Jack's Black Label Beef Jerky can be found in its wonderful gift hampers.

What Gift Hampers Contain The Jack's Black Label Beef Jerky?

The gift hampers in the Emporium that have Jack's Black Label Beef Jerky are the James Squire Ale Hampers, the Microbreweries of Australia Gift Hampers, the Beers of Australia Hampers and the Red Wine & BBQ gift hampers.

What Other Delights Does The James Squire Ale Gift Hampers Have?

Aside from the Beef Jerky, these gift hampers offers other tasty delights that will surely light up your senses. Found in them are bottles of the James Squire Ale which makes them also a recommended gift for men this holiday season. Not only that, these gift hampers also have savoury treats like the Morgan & Albert's Nibbles, Thomas Chipman chips and Baylies plain lavash.

What About The Microbreweries Of Australia Gift Hampers?

The Microbreweries of Australia gift hampers are filled with tasty goodies from Morgan & Albert's, Baylies, Random Harvest, Thomas Chipman and the Jack's Black Label Beef Jerky. Also, the reason why these gift hampers were called 'microbreweries" is because they are loaded with the popular and fine tasting beers only found in Australia such as the Burleigh brewing my wifes bitter, Lord Nelson,
Murray Craft Brewing Co, Bridge Road Brewers and Feral Sly Fox Summer beers.

What Makes The Beers Of Australia Gift Hampers Different From The Microbreweries Of Australia Hampers?

They are almost similar actually since both contain beers or ales and delicious savoury treats. However, they differ on the brands of the beers found in them since the Beers of Australia Gift Hampers are filled with beers made not just in Australia but in New Zealand as well like Monteith, Balmaine, Little Creatures and Mildura.

What's With The Red Wine & Bbq Gift Hampers?

These gift hampers are absolutely among those lovely hampers found in the Hamper Emporium. The Red Wine & BBQ hampers are showcased in a wood storage box that contains goodies like the nibbles from Morgan & Albert's, the crackers from Baylies, snag jam from Spoonfed foods and the famous Beef Jerky of Jack's Black Label. These hampers are actually made to match steak dinner preparations and these come with bottles of the 2012 pepperjack shiraz.

Where Can I Order These Gift Hampers?

All of these wonderful hampers are exclusively distributed by the Hamper Emporium. For your orders, you should visit the Emporium's online site and there you will find its huge collection of gift hampers that you can surely pick as Christmas gifts. Once you visit the site, you will be surprised that these elegant gift hampers are very affordable and discounts will be offered to you when you take them. These gift hampers are not available anywhere else, so visit the emporium as soon as possible and don't miss the exciting offers that are made only for you.
100% real Australian beef is the star of this delicious beef jerky that's perfect for snacking on and savouring.