Le Cordon Bleu Paris Olive Fennel Spread 180g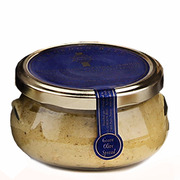 Delicious green olive spread with a hint of fennel, preferably served with a gorgeous cheese platter. Made in France le Cordon Bleu experts. A traditional French spread celebrating 120 years of fine food production; with full flavours that pair perfectly with soft cheeses. Gourmet, savoury green olive spread, that is the perfect partner for gourmet crackers and soft cheese platters. An irresistible dip.
Le Cordon Bleu brings a deliciously unique flavour to any cheese platter or simply dip in crackers. Made in France.
Give life and add flavour to your chips, toasts, crackers and cheese platters with this delicious French spread with Green Olives and Fennel.
Give life and add flavour to your chips, toasts, crackers and cheese platters with the Le Cordon Bleu Paris Green Olive Spread with Fenne. This savoury gourmet food from France is made with the freshest and finest ingredients such as green olives, capers, fennel, water, olive oil, salt, spices and lemon juice. The Green Olive Spread with Fennel is also a perfect complement for your salads, vegetables or fishes that will surely delight your appetite.

The Le Cordon Bleu Paris Green Olive Spread with Fennel will also magically transform your simple food preparations into very indulging dishes. This imported gourmet treat is a favourite in Australia and most people crave for its one of a kind taste. No wonder that the Hamper Emporium, home of the best gift hampers in the land down under, values the amazing delight that the Le Cordon Bleu Paris Green Olive Spread with Fennel brings. You can find Le Cordon Bleu Paris products in almost all gift hampers that the emporium produces particularly the Green Olive Spread with Fennel. One particular gift hamper that contains this flavoursome gourmet is the Deluxe Office Share Christmas Basket.

What Other Treats Does The Deluxe Office Share Christmas Baskets Have?

These gift hampers are fully loaded with the most delicious and flavourful biscuits, sweets & chocolates and other nice treats. These gift
hampers are perfect if you are planning to surprise your friends and officemates this Christmas. Found inside these gift hampers aside from the Le Cordon Bleu Green Olive Spread are the savoury treats made special by Morgan & Albert's, Partridges Artisan Bakehouse, Random Harvest and Tasmanian Fruit Pastes. Also contained in these gift hampers are biscuits and sweets from Maison Fossier,
Baylies, Byron Bay, Anna's Original and Belgian Butters. Not only has that, these deluxe hampers also come with chocolates from Butlers, Chocolate Plato and the famous Willie's Cacao. Bottles of the finest wine and champagne are also included to sparkle the cheers for the Christmas celebration.

What Other Gift Hampers That Contain The Le Cordon Bleu Paris Green Olive Spread With Fennel?

Other gift hampers that contain the famous green olive spread are the Classic Port Hamper, the Best of All Gourmet Hampers, the International Foodies Gift Hampers and the Premium Office Share Christmas Basket.

What Do These Gift Hampers Have Aside From The Le Cordon Bleu Paris Gourmet?

The Classic Port Hampers are filled with products from Comtesse du Barry, Baylies, Valley Seed, Maison Fossier, Morgan & Albert's and a lot more with a bottle of Penfold's Wine. The Best of All Gourmet Gift Hampers, however, contains goodies and delicious treats like Rick Stein's Biscuits, Valley Seed Crisps, Baylies Crackers, a bottle of Scarpantoni wine and a free gift card.

The International Foodies Gift Hampers on the other hand comes with gourmet treats, pastries and other food items made from various countries from around the world that were specially packed in very elegant gift hampers. The Premium Office Share Christmas Basket has similar surprises that of the Deluxe Office Christmas Basket with just a very variations in some sweet and biscuits products.

Don't Want To Wait Until The Holiday Season?

Then as early as now, you should check out the affordable and amazing gift hampers found in the Hamper Emporium. When you visit its online page, you will see other details of the gift hampers including that of the products complete with their actual images. The earlier you order these gift hampers the more discounts and other offers you will receive. So don't wait until these will all be taken away from you. Visit the emporiums online page and choose what gift hampers you will give to the people you care most.

Enjoyed the world over, this traditional French olive spread made with fennel is delicious with fine cheeses and on quality sourdough.
---