Lisa's Kettle Cooked Lime & Chilli 110g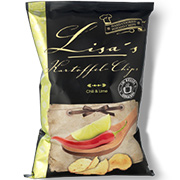 Traditionally cooked chips with hints of lime and chilli, the perfect snack for adventurous gourmet loves. German kettle-cooked chips spiced with chilli and lime, goes well with a nice cold beer. Organic chips made with fresh spices, made by Lisa's Chips in Germany.
Ultra crunchy kettle cooked chips combine the tangy lime with the heat of chilli, perfect to enjoy with beer. The world's favourite potato chips are now available to enjoy right here. They'll love the amazing flavour. Potato chips that are hand cooked are considered to be of high quality, where else can you take advantage of potato chips that are prepared intricately to provide you the best tasting chips worldwide other than the Lisa's Chips? The products of Lisa's Chips can be purchased straight from The Hamper Emporium; you can grab
gift hampers
with cooked kettle in it or its popular choices of potato chips. One of the tastiest chips of Lisa's Kettle is the Lime & Chilli in 110g pack. This is why gift hampers are filled with this enjoyable treat; it bursts with impressive flavours perfect as children and adult snacks.
What Is The Advantage of Lisa's Kettle Cooked Lime & Chilli 110g As Compared to Other Potato Chips?
When it comes to health benefits, Lisa's Kettle Cooked Lime & Chilli in 110g pack offers enormous advantages. As a start, this potato chip is made of organic potatoes only. Therefore you are guaranteed to have healthy, fresh and organic chips on hand. Gift hampers should be filled with this snack; parents will surely feel safe giving this to their kids. The ingredients used are chosen carefully, using only what is needed to ensure it is pure and it does not come with preservatives. Each potato is hand-picked carefully, only the highest quality is chosen to produce only the best potato chips in the world. Note that the potatoes used are purchased near its production facility, therefore you know that the raw materials are not stressed giving you a more delicious produce than ever.
What Made The Lisa's Kettle Cooked Lime & Chilli 110g Unique?
Being a healthy snack is an important factor, however being unique is also a must. Good thing the Lisa's Kettle Cooked Lime & Chilli is unique thanks to its fruity flavour, a touch of lime to it. Above all, this chip offers something exceptional and that is the taste of chilli which is heated mildly and pleasantly. So why purchase from other online sites, when you have The Hamper Emporium to provide you with only the best and the most competitive gift hampers online? If you want to try the Lisa's Kettle Cooked Lime & Chilli, take a peek at The Hamper Emporium and you will be surprised of what it can offer. Lisa's Kettle Cooked Lime & Chilli will give you a chilli punch you don't expect. It also provides you fresh flavours. So hurry now, purchase this delectable potato chip and enjoy the flavours of chilli and lime in one product.
What More Can You Expect from This Potato Chip?
Unlike other potato chips, this one will really surprise you. Its crunchy chips are cooked finely. Every bite of it will tickle your senses and taste buds. This is also perfect for your cold iced beer; imagine having a perfect made in Germany potato chips, a bottle of cold beer and a nice chat with friends at home. This is one great way to spend your weekend. So hurry and have a taste of this tangy lime chip, browse for gift hampers from The Hamper Emporium, and you will really fall in love with this yummy product. When it comes to crunchy chips it doesn't get much better than these delicious flavour-filled bites.