Morgan & Albert's Premium Nibbles BBQ Peanuts 100g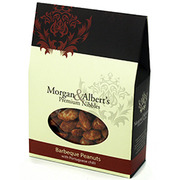 Barbecued peanuts made with Portuguese chili from Morgan & Albert's, famous for their nibbles and relishes. Gorgeous peanuts, perfect for those who like a snack with a little bit of a kick. Australian barbecued peanuts with a hint of Portuguese chilli, a perfect snack for your barbecue or during a summer party.
Made with Portuguese Chili, these delicious peanuts are full of flavour with a kick of chili.
A touch of Portugese Chili gives these nuts just the kick that takes them from delicious to absolutely amazing.
Morgan & Albert's Premium Nibbles BBQ Peanuts
Morgan & Albert's is one of the most preferred gourmet producers in the land down under. Most people love the taste of its peanuts, pickle relishes, almonds, spiced cashew nuts, macadamia nuts and pistachios. Some people can't even make it through the day without opening a box of Morgan & Albert's. The Hamper Emporium, home of the best and full of surprise gift hampers, has prepared hampers that contain your favourite treats made by some of the famous brands which include the Morgan & Albert's Premium Nibbles BBQ Peanuts. Below is some of the information that will help you decide what gift hampers to choose this Christmas.
Do You Prefer Gift Hampers Containing Beers From Other Countries?
If you want to give your friends gift hampers with beers from different countries then you should choose the Premium United Nations of Beer Gift Hampers or the United Nations of Beer Gift Hampers. These hampers contains the finest tasting beers from European countries like Germany, Netherlands, France, Italy and Belgium. Morgan & Alberts Gourmet treats, Cat Cora's and Random Harvest products are also found in these wonderful gift hampers.
This is one of the limited edition gift hampers in the Hamper Emporiums catalogue. It's one of those hampers that contains so many surprises. Found inside the Jameson Whiskey Gift Hampers are the Morgan & Albert's Premium Nibbles BBQ Peanuts, Thomas Chipman Potato Chips, Cat Cora's, Random Harvest and a lot more. The reason why these hampers have such name is that found inside them are bottles of the well-known Jameson Whiskey.
What Treats Does The Deluxe Office Share Christmas Basket Contains?
Do you want to treat your officemates or personnel for a job well done this Christmas? Do you want to give them a unique surprise? Then all you need to do is get a Deluxe Office Share Christmas Basket from The Hamper Emporium. This amazing surprise-filled basket comes with savoury treats from Baylies, Random Harvest, Partridges Artisan Bakehouse, Valley Produce Co., Tasmanian Fruit Pastes and Morgan & Alberts (Premium Nibbles BBQ Peanuts).

The Office Basket Hamper has also a bunch of sweets and biscuits made delicious by Maison Fossier, Anna's Original, Elsa's Story and Baylies Gourmets. To complete the Christmas celebration, a bottle of the Piper-Heidsieck Champagne can be found inside the basket as well as a bottle of the Scarpantoni Block wine. Chocolate lovers will surely be delighted with the Premium Office Basket because it has a lot of delicious chocolates from Butler's, Chocolate Plato and Willie's Cacao.
Want More Gift Hampers?
The Hamper Emporium also offers you some of its in-demand gift hampers which you can give as your Christmas gift this yuletide season. Also available in the hampers category are the Wine & Nibbles Hampers, the James Squire Ale Hampers and the Microbreweries of Australia Hampers. These hampers also comes with the indulging Morgan & Albert's Premium Nibbles BBQ Peanuts.
Want To Give These Gift Hampers To Friends And Love Ones?
If you already decided to buy these wonderful and elegant hampers, then visit the Hamper Emporium online and see more details about these hampers. The site will also tell you how affordable these hampers are you can also see the actual images of the delectable products found in each and every hamper. Don't wait till these hampers are gone, while there's still much time before the gift giving season; be sure to explore the Hamper Emporium.
Amazingly flavoured with just the perfect amount of chilli to create the ultimate snack.