Piranha Cinnamon Walnut & Multigrain Snack Mix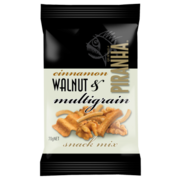 Healthy snack mix without any artificial flavours, colours or cholesterol. A cinnamon and walnut mix, does not contain any saturated fats or preservatives. The perfect snack for someone that needs to mind their cholesterol and fat intake.
Snack Mix with sweet cinnamon walnuts and multigrain are made from the finest ingredients. Piranha Vege Crackers are light, crunchy and delicious. Featuring sweet walnuts and multigrain for a touch of sweetness with a healthy delicious result and full flavour . If you are looking for fresh gift hampers something that is different from the common ones out there, then The Hamper Emporium is happy to announce some of its freshest and delightful treats included in most of its gift hampers, like the Cinnamon Walnut & Multigrain Snack Mix of Piranha. The Piranha Company is one of the most innovative Australian manufacturers offering varying food lines, mostly focused in providing delicious and tasty snacks for Aussies and even people from around the globe. So if you desire for something special, unique, extraordinary and an out of the box experience for your gift recipient, why not purchase gift hampers with the Sweet Cinnamon Walnut & Multigrain Snack Mix in it? Not only will you make your recipient happy and please, but as well as thrilled to taste something exceptional.
Why Should You Pay For Piranha's Snack Mix?
There are a lot of reasons why you should pay for one of Piranha's best selling snack mixes, the Cinnamon Walnut & Multigrain Snack. This product is truly flavoursome yet believe it or not, it has no cholesterol in it! So you can munch on this snack without worrying of your diet, or your figure! Health conscious people can opt for this snack to maintain their health, body figure and to avoid incurring more cholesterol in the body. In addition, where else can you find gift hampers packed with snack mix that comes with no artificial flavours?
It is only from The Hamper Emporium where gift hampers are provided with not only creativity but even considering the recipient's health. If you seek for a reliable product which is safe for your kids and love ones, the Sweet Cinnamon Walnut & Multigrain Snack Mix of Piranha offers no artificial colours too. This may sound unbelievable however this product is an excellent choice to add in most gift hampers. So if you are doubtful, don't be because The Hamper Emporium offers impeccable and healthy products online.
Are The Ingredients of Cinnamon Walnut & Multigrain Snack Mix Healthy?
There's no better snack to purchase than this product and thanks to its ingredients, you will never worry about your fitness and total wellbeing. This snack mix is comprised of excellent choices of ingredients such as the natural flavour of cinnamon, a little bit of health spice, soya sauce powder which comes from salt, some soya beans and of course some wheat flour. There's also the natural flavour, a pinch of cocoa powder, some anti-caking agent, corn, barley, rye meal and few more ingredients that are really good for your body. Judging from the ingredients, you will really be happy and contented to purchase gift hampers with Piranha products in it. So hurry now, waste no time and start checking for gift hampers online. You can start from The Hamper Emporium to ensure your hamper is world class, affordable and above all, comprised of amazing products and goodies you won't feel sorry for buying.
Where Can You Purchase The Amazing Piranha Cinnamon & Walnut Multigrain Product?
Although there are lots of online stores out there offering Piranha snack products, The
Hamper Emporium
also provides this ultimate snack at affordable price, and even better for some are packed along with other yummy goodies in one basket. So if you are looking for the best priced Piranha delight, The Hamper Emporium is your best place to grab some snacks and ultimate gift hampers.
A healthy addition when entertaining or splurging on exquisite fare no matter the occasion.