Random Harvest Kalamata with Roasted Garlic Tapenade 60g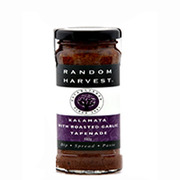 Rich tapenade made from fresh Kalamata and roasted garlic, which is more than likely to tantalise your tastebuds. One of Random Harvest's finest releases, a gorgeous garlic and Kalamata tapenade. Delicious tapenade made with Greek Kalamata and roasted garlic that's perfect for cheese platters or dipping.
A rich olive spread made from the goodness of Kalamata olives and gently flavoured with roasted garlic. A flavour filled tapenade featuring roast garlic and kalamata olives for delicious flavour combinations.
Discover the Unique Flavour Of Random Harvest Kalamata With Fresh Roasted Garlic Tapenade!
Customers who like some unique flavours in their selection of gift hampers should definitely have a look at our gift hampers containing the Random Harvest Kalamata with fresh roasted garlic tapenade. Random Harvest is known for exquisite tapenades and spices, so be sure to read on and discover the Random Harvest treats our gift hampers have to offer.
Can You Give Me More Information On The Random Harvest Kalamata With Roasted Garlic Tapenade?
The Random Harvest tapenade with Kalamata and roasted garlic is one of the most exquisite tapenades coming from the Random Harvest brand. It contains fresh Kalamata olives, but also roasted garlic that takes this tapenade to a whole new level.
There are also plenty of serving suggestion for the Random Harvest tapenade, because these tapenades work really well on Italian dishes. If you have a passion for Italian food, you can easily add this tapenade to a cold pasta or a delicious homemade pizza.
What Can You Tell Me About The Brand?
Random Harvest is one of the fine food ranges provided by Australian company Mastapak. Mastapak is a business owned by an Australian family. They specialise in fine foods, especially created to add to a fine selection of food gifts or gift hampers.
The range of Mastapak is not limited to tapenades. In addition to tapenades, they also provide other products such as mustards, chutneys, desserts, savoury sauces, dressings, jams and confectionery.
All products coming from Mastapak are created according to a traditional family recipe. They have developed several innovative food lines as well, making sure that their range stays up-to-date with the flavour preferences of the modern world.
Which Gift Hampers Contain Random Harvest Kalamata with Roasted Garlic Tapenade?
There are several gift hampers in the Hamper Emporium range that contain the Random Harvest Kalamata with Roasted Garlic Tapenade. One of these gift hampers is White Wine & Nibbles Hamper.
The White Wine & Nibbles Hamper contains two delicious tapenades from Random Harvest
– the Random Harvest Sundried Tomato Tapenade and Random Harvest Kalamata with Roasted Garlic Tapenade. However, there are additional treats that go well with cheese, which include the Tasmanian fruit pastes, herb crackers and Kalamata olives, which are all included in this hamper.
A good gift hamper would not be complete without a nice bottle of bubbly, so Hamper Emporium also included a bottle of 2013 Devil's Corner Sauvignon Blanc. The 2013 Devil's Corner Sauvignon Blanc has a pale straw colour and a soft aroma of green beans and lychee. It also has a smooth palate with plenty of tropic fruit and a real zesty acidity.
When you want to try the 2013 Devil's Corner Sauvignon Blanc with a particular type of cheese, we can recommend an aged parmesan. You can also combine this Sauvignon Blanc with olive oil based meals or chargrilled asparagus.
We have an extensive range of gift hampers, from Corporate gift hampers, new mum and baby gift hampers to
Christmas hampers
and many more. Hamper Emporium can supply corporate hampers to suit all corporate budgets. The Hamper Emporium is a trusted supplier of Corporate Hampers for Australia's leading companies. All of our gift baskets are presented beautifully packed with excellent quality food and drinks or wines of superior quality. Kalamata olives and delicious roasted garlic tapenade that's guaranteed to impress no matter the occasion.