Random Harvest Roasted Capsicum Tapenade 140g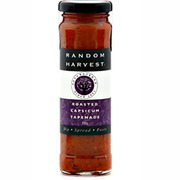 A delicious tapenade from Random Harvest, made with red capsicum, providing a natural sweetness. Tapenade with roasted capsicum, giving the tapenade a full body and an extraordinary flavour. One of the best tapenades to add to your favourite pasta dish, created by Random Harvest.
The gently roasted and naturally sweet red capsicums in the Roasted Red Capsicum Tapenade are a gourmet delight. Nothing says delicious quite like the exquisite flavours of roast capsicum.
Spice Your Italian Meals With The Random Harvest Roasted Capsicum Tapenade In Our Gift Hampers!
Anyone who loves Italian food will adore the Random Harvest Roasted Capsicum Tapenade. The Random Harvest tapenade can be found in a number of our gift hampers, so you can easily take advantage of this great release from Mastapak. Curious how you can use the Random Harvest Tapenade in our gift hampers? Read on and discover some great suggestions from the Hamper Emporium team!
Who Is Mastapak?
Mastapak is a family owned business in the heart of Australia. The company is one of the leading manufacturers of fine foods, producing all types of delicious goodies ranging from chutneys and tapenades to mustards and savoury sauces.
Random Harvest tapenades, produced by Mastapak, are all made with fresh ingredients from the local area. When you value fresh gourmet foods, Random Harvest will definitely become one of your all-time favourite brands.
How Do I Use Random Harvest Roasted Capsicum Tapenade On Food?
The Random Harvest Roasted Capsicum Tapenade can be used on a variety of Italian foods. When you want to get the most flavour out of
your Random Harvest Tapenade, we recommend using it on a nice pasta dish, which can be cold or hot.
Many people also use the Random Harvest Tapenade on pizza. The Random Harvest Roasted Capsicum Tapenade can bring out a little extra flavour from an oven-baked pizza, so if you are cooking the real traditional oven pizza, make sure you give the Random Harvest Tapenade a try.
Where Can I Find The Random Harvest Tapenades?
The Hamper Emporium uses Random Harvest tapenades very often in their gift hampers, so there are several gift hampers to choose from. However, one of the gift hampers you definitely need to try is the Jameson Whisky Hamper.
In the Jameson Whisky Hamper you will find another great Random Harvest tapenade, the Random Harvest Kalamata with Roasted Garlic Tapenade. In addition to that, you also get a gorgeous Tasmanian fruit paste with figs and walnuts.
When you like savoury nibbles you will love the Jameson Whisky Hamper, because you also get a nice selection of Morgan & Albert's peanuts, Cat Cora's green olives and Thomas Chipman organic potato chips.
Last but not least, you also get a bottle of Jameson Select Reserve Small Batch Whisky. The Jameson Select Reserve Small Batch Whisky has a fruity sweetness and plenty of length, providing each customer with an amazing tasting experience.
Customers who really like their whisky can also find additional whisky hampers in our gift hampers range, which include excellent whisky releases from Glenlivet and Glenmorangie.
What can I expect from The Hamper Emporium's Gift Hampers and Christmas Hampers?
For something that is truly Australian, be sure to browse our wide selection of food and wine hampers. Whether it's a Gift Hamper or Christmas Hamper for a big or small occasion, The Hamper Emporium is the right place to grab all these amazing gourmet hampers. Our gift baskets are an ideal way to show your love and affection for your loved ones. Filled with superior quality wines and excellent quality treats, anyone would be overjoyed to have received any of these gourmet hampers.
Enjoy the rich flavours of roast capsicum with true Italian inspiration and aromas perfect for entertaining.