Thomas Chipman Organic Mixed Root Chips 75g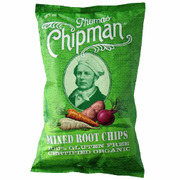 Thomas Chipman mixed root chips, fully organic and gluten free. The ultimate snack created from organic Australian carrots, beetroot, sweet potatoes and parsnips. Delicious selection of mixed root chips, perfect for vegans and people suffering from dairy or gluten allergies.
A delicious chip combination of organic beetroots, sweet potatoes, parsnips and carrots. You'll simply adore these chips. Delicious flavours with a healthy twist, featuring beetroot, sweet potatoes, parsnips and carrots.
Thomas Chipman Organic Mixed Root Chips
These days, so many unhealthy foods are sold in the supermarkets. There are even some potato chips that taste good but have very low nutrient content which is not good for your body. Most of them have artificial flavourings, preservatives and very high salt content which can make you feel ill and worst can cause you diseases or complications.
You should give more importance with your health and start it by making sure that you are only eating nutritious foods and whenever you eat potato chips, choose only the brand that guarantees you the right nutrients that can make you feel good. And you should choose the Thomas Chipman Chips.
The Thomas Chipman chips are made from natural and organic ingredients produced in Australia. For years, Thomas Chipman has been trusted by millions of people and has earned so many recognitions because of its outstanding quality. Because of this, the Hamper Emporium, home of the best gift hampers in Australia, has included in its amazing gift hampers the exceptional products of Thomas Chipman.
What Other Thomas Chipman Products Can Be Found In The Gift Hampers?
The Hamper Emporium has actually filled almost all kinds of the Thomas Chipman products inside its different gift hampers. There are gift hampers that contain Thomas Chipman's corn chips (lightly salted or Splendid Cheese). Some gift hampers contain the Thomas Chipman's potato chips which can be lightly salted, Rosemary & Thyme or Cracked Pepper. In some gift hampers, you can find Thomas Chipman's Sweet Potato Chips, Beetroot Chips, Parsnip Chips and the Mixed Root Chips.
What Is The Thomas Chipman Mixed Root Chips?
The Thomas Chipman Mixed Root Chips is one of the most indulging and one of the most favourite snacks of the Australians.
Why Is The Thomas Chipman Mixed Root Chips So Delicious?
This tasty treat is made with the organically produced carrots, sweet potatoes, beetroots and parsnips that were delicately sliced very thin and prepared to perfect. It is very delicious because the organic vegetables it has retains their true tastes and were made flavourful by palm oil and small quantities of sea salt.
Is This Product Healthy?
This is indeed a healthy product. In fact, Thomas Chipman treats are certified gluten free and organic with no preservatives or artificial flavours added. Also, the Thomas Chipman Mixed Root Chips are healthy and perfect for you because it has no MSG and other harmful ingredients. The Thomas Chipman Mixed Root Chips, just like all Thomas Chipman products are recommended for people with celiac or to those who are living a healthy lifestyle.
What Gift Hampers Contain The Thomas Chipman Mixed Root Chips?
Actually, the Thomas Chipman Mixed Root Chips are found in so many gift hampers in the Hamper Emporium. One best example of these gift hampers is the ANZAC Ciders Hamper. Aside from the Thomas Chipman chips, the ANZAC Ciders Hamper is loaded with the famous ciders from all over the world like the Monteith Cider, Matilda Bay Cider, Saxton Pear Cider and a lot more. The hamper is also filled with savoury treats from Morgan& Albert's, Baylies, Cat Cora's and Random Harvest.
Where Will You Grab This Gift Hamper?
The ANZAC Ciders hamper is only found in the Hamper Emporium. If you want to grab this hamper, visit the online site of the Hamper Emporium where you can order one. You can also choose other gift hampers found in the presented categories. Share the amazing gift hampers of the Emporium to your love ones this Christmas and certainly you will not regret choosing them.
Who said crisps had to be unhealthy, not this seletion of beetroot, parsnips and carrots.