Valley Seed Crisps Cranberry & Hazelnut 170gm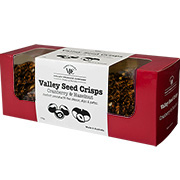 Sweet seed crisps with cranberries and hazelnuts, easy to combine with a nice brie or cheddar cheese. Delicious seed crisps made from local ingredients from the Yarra Valley, an exquisite snack for everyone. Gourmet seed crisps with cranberry and hazelnut, made by the Australian Valley Produce Company.
Valley Crisps are the ultimate accompaniment to fine cheese with the sweetness of cranberries complemented by roasted hazelnuts. Cranberry and Hazelnut crisps from Valley Produce are the ultimate entertainer's delight for the table. Nutty and sweet, just like the combination of hazelnut and cranberries you can't get enough of this two flavours especially during holidays. Manufactured by Valley Produce Company, the Valley Seed Crisps Cranberry & Hazelnut is a superb choice of snack you can provide your family and those important people in your life during holidays such as Christmas, and even other occasions. This is why The Hamper Emporium now offers a lot of gift hampers with the Valley Seed Crisps Cranberry & Hazelnut product in it. Take a bite of this product and you will experience the sweetness offered by the cranberries, and the roasted flavour of hazelnut compliments the overall taste of the product. This is indeed a great tasting experience especially if you combine it with your cheddar cheese or fine brie.
What Are the Ingredients You Can Expect from the Valley Seed Crisps Cranberry & Hazelnut?
Just like any other snack products, the Valley Produce Company ensures that the Cranberry & Hazelnut 170g snack is filled with healthy ingredients. Eating this will give you the combining ingredients of plain white flour, different types of seeds ranging from pumpkin seeds, sesame and linseed. Salt is also added, sodium bicarbonate, a handful of honey as well as milk powder. Of course, the two main ingredients of cranberries and hazelnut will never be forgotten. If you desire for sweet gift hampers, purchase straight from The Hamper Emporium and expect a fresh bunch of Valley Produce Company products. Grab this now and share it with your best friend, you guys will really enjoy it and you can even pair it with your coffee or even to your afternoon tea!
Are There Gift Hampers Offering the Valley Seed Crisps Cranberry & Hazelnut?
Yes, The Hamper Emporium offers great selection of gift hampers with Valley Seed Crisps Cranberry & Hazelnut in it. Gift hampers such as The Best of all Christmas Gift Hamper, Gourmet Treats Festive Hamper, A Sparkling Christmas Hamper, Festive Cheer Holiday Hamper, Everything But The Ham Festive Hamper and last but not least is the
Deluxe Office Share Christmas Basket
. All these can be found in The Hamper Emporium site. Priced affordably, prepared intricately and lovingly, and most of all, all these gift hampers come with other high quality products you can take advantage. Of course, all these are offered with free delivery Australia nationwide. So why purchase from other hamper providers if The Hamper Emporium is there to provide your hamper needs at such a low price.
Is the Cranberry & Hazelnut Product Safe for Kids?
Yes, this product is 100% safe to consume. However, note that it contains wheat which is one allergen factor you should not miss to consider if you are suffering from celiac' disease. This one contains milk products too which is healthy and beneficial for kids with healthy statuses. Make sure to grab gift hampers with the Cranberry & Hazelnut in it, the sweetness of this product will really surprise you as well as its unique flavour combination that is not common in other snack products. The sweetest seed crisps featuring cranberries and hazelnuts for a beautiful nibble treat.