Valley Seed Crisps Fig & Olive 170gm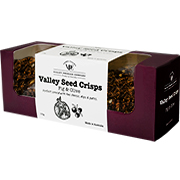 Delicious seed crisps made in Australia, best kept at room temperature to make the flavour come out fully. Outstanding selection of seed crisps from the Valley Produce Company, contains figs and olives. Exquisite seed crisps with fig and olives that partner perfectly with soft cheeses and gourmet crackers for any occasion.
The combination of figs & olives provide a savoury taste sensation of sweet and salty, Perfect with fine brie, blue or cheddar cheese. Only the best ingredients and most amazing flavours result in brilliant snacks and nibbles from Valle Produce. When it comes to the most trusted gourmet producers in Australia, the Valley Produce Company is the first choice of most Aussies. This company offers only the best products with most of its ingredients coming from the Yarra Valley region situated in Victoria. Speaking of Victoria, this is a popular location where most of the prestigious and high quality food and wine products are produced. So if you desire for the Valley Seed Crisps Fig & Olive product of the Valley Produce Company, there's only one site to check and that is The Hamper Emporium. Most of its gift hampers are offering impressive treats which of course includes the Valley Seed Crisps Fig & Olive.
What Can You Expect from the Valley Seed Crisps Fig & Olive?
When it comes to expectations, you will never be disappointed because the Fig & Olive snack of Valley Produce Company is one of the tastiest out there. It is filled with healthy ingredients too like olives, which comes in about 17% as well as figs. Brown sugar is also added to enhance the sweetness of this product, along with some sea salt, milk powder, honey and even sodium bicarbonate. You can expect to taste a touch of pumpkin seeds too together with linseed and sesame seeds, should you decide to purchase this snack. Gift hampers from The Hamper Emporium offers this snack because most loyal customers are looking for Valley Produce Company products for personal consumption, or even for commercial ones like restaurants and other types of food stores.
What Are the Different Gift Hampers with Valley Seed Crisps Fig & Olive In It?
Gift hampers must be chosen carefully depending on the type of occasion you will be celebrating. However, if you want a safe choice, there are many gift hampers you can opt for which include the Fig & Olive Snack such as the Everything but the Cheese Hamper, which contains savoury products from Baylies, Edinburgh, Rick Stein, Le Cordon Bleu and of course Valley Produce Co. There's also the Classic Port Hamper that offers delightful Maison Fossier biscuits, some almonds from Jules Destrooper and candied peanuts of the Morgan & Albert's. You can also purchase Classic Port Hamper, The Best of all Gourmet Hampers, the Glenmorangie Scotch Whisky Hamper, and
The Glenlivet Founder's Reserve Hamper
. The list of gift hampers only shows that you can rely on The Hamper Emporium to provide you with quality gift hampers with yummy products in it.
What is the Dominant Flavour of the Valley Seed Crisps Fig & Olive?
If you haven't tasted the Fig & Olive of the Valley Produce Company; note that it comes with a blend if sweet and salty flavour. This is because of the mixture of olives and figs! In other words, your palate will enjoy the new blend of taste as well as the sensation it offers. This is also a good choice to pair with your blue cheese or maybe cheddar cheese. You can use your fine brie too to enhance your Fig & Olive experience. Grab some gift hampers now and make sure to purchase from The Hamper Emporium to take advantage of gift hampers within your means without sacrificing quality. Flavour-filled seed crisps made with cranberries and hazelnut right here in Australia.
---